MEET ISN
The International Student Network Amsterdam is present during the Arrival Day.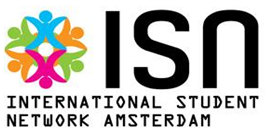 Meet ISN (International Student Network)
ISN Amsterdam is an organisation for international exchange students that study at the Amsterdam University of Applied Sciences or the University of Amsterdam. It is part of the bigger European network Erasmus Student Network (ESN). Annually ISN welcomes 1500 international exchange students. The goal is to socially and culturally integrate internationals in Dutch society. They do this by organising a diverse range of activities.
Visit the ISN desk to receive information about:
The Introduction week. Please make sure to register in time
Upcoming events such as city trips inside and outside of the Netherlands, cultural and sport activities and a weekly drink
Other possible questions
For more information about ISN and their introduction week and to register, please go to: