Global Connection Programme
Global Connection Programme 2023
The recent years have shown us that life happens when you are busy making other plans. It might be that you expected your student life of the recent years much different, with less screens to say the least. Luckily, we are now able to connect on campus again, even GLOBALLY. AUAS has welcomed you and many others after summer, and we would like to introduce you to the Global Connection programme. A programme that facilitates skill training and connection between international and AUAS students and a programme that provides overall a good time. Interested?
What is the Global Connection Programme?
The Global Connection Programme is an international extracurricular programme which will allow you to meet new people, get to know new cultures, reflect on your own and mostly a programme that allows you to have fun in an international context. During three or four high-impact workshops you will grow as a person and a professional, becoming a better communicator and connector. You will learn how to thrive in an international setting, whether it is abroad or in an international context closer to home, such as a multicultural classroom or workplace.
Do you know what intercultural communication means and why it is necessary to understand the basis of it? Have you heard of culture shocks? Do you know how to tell your story and pitch your ideas like a pro? How learning to actively listen can improve your professional relationships and friendships?
After the programme, you certainly will!
About the Global Connection Programme
What?
A programme with a minimum of 3-4 high-impact workshops plus optional leisure activities
When?
We will start in second week of February. The first workshop will take place on the 22th of February 2023 between 6pm and 8pm at the Wibautcampus. The other workshop dates will be announced later. Workshop days vary between Wednesday evenings and Thursday evenings. All workshops will always take place between 6-9pm. Pizza and Drinks will be provided.
Where?
AUAS Wibautcampus

Who can join?

International students who just started at AUAS
Current AUAS students (Dutch or English speaking) who were supposed to go abroad this semester or who are going next semester
Current AUAS students who are interested in meeting people in an international context

What are the costs?
None.
What is your reward?
After completion of the programme you will gain the title of AUAS International Student Ambassador. In addition, you will receive an official recommendation from us, either as a letter or LinkedIn recommendation and an official certificate (after full participation in all workshops).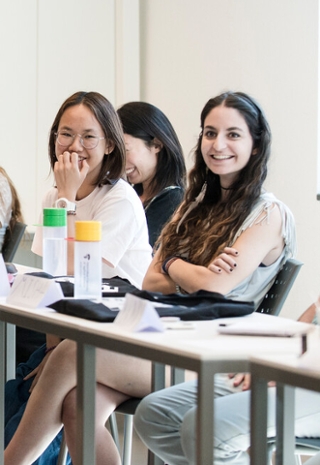 How does it work?
The only thing that we ask is to show commitment and show up. We put time and effort into providing this programme. Joining the programme is entirely free. Just make sure to sign up on time!
Can exchange students participate from abroad?
At the moment we only offer the programme on site.
Learning objectives
During the programme, you will acquire:
Insight in the challenges of studying, living and working in an international field and how you can master it or prepare for it.
New skills as a professional communicator/connector gained during workshops on intercultural communication, content creation, storytelling and networking skills.
An official recommendation from us, either as a letter or LinkedIn recommendation.
An official certificate after full participation in all workshops.
A broader international network thanks to the new friends you've made in the programme!
What do we expect of you?
You should be committed to the programme. Spread across the semester you will spend approximately 15 hours in total following the workshops and we will give you two assignments which you need to complete. After completion of the programme you will gain the title of AUAS International Student Ambassador. Your task will be to connect people and to share your international experience, whether it is on campus or abroad. You are a spokesperson for internationalisation at AUAS – students can contact you if they have questions about studying abroad, meeting international students, and more.
Interested?
Please note that the application deadline for the group starting in February 2023 has closed.
If you have questions, please send a message to studentambassadors@hva.nl.