Global Connection Programme
Global Connection Programme 2021
The past year has shown us that life happens when you are busy making other plans. Nobody expected a pandemic, yet, here we are. Suddenly, perspectives have changed and the academic year looks different than anyone could predict. Did you have to put your international plans on hold? Or are you using this year to examine your possibilities? The Global Connection Programme for Student Ambassadors is here to help!
What is the Global Connection Programme?
The Global Connection Programme is an online study programme which will allow you to meet new people and get to know new cultures. During five high-impact workshops you will grow as a person and a professional, becoming a better communicator and connector. You will learn how to thrive in an international setting, whether it is abroad or in an international context closer to home, such as a multicultural classroom or workplace. Have you ever heard of culture shock? Do you know what intercultural communication means? Or how to tell your story and pitch your ideas like a pro? When you have finished the programme, you certainly will!
About the Global Connection Programme
What?
An online programme with 5 high-impact workshops.
When?
We will start in February 2021. The first workshop will take place in the week of 15 February.
Where?
Online, and if possible also in blended form (for students who are located in The Netherlands).

Who can join?

International students who do not know yet whether they can start their exchange at AUAS
Current AUAS students (Dutch or English speaking) who were supposed to go abroad this semester
AUAS students who are interested in meeting people in an international context

What are the costs?
None.
What is your reward?
After completion of the programme you will gain the title of AUAS International Student Ambassador. In addition, you will receive an official recommendation from us, either as a letter or LinkedIn recommendation and an official certificate (after full participation in all workshops).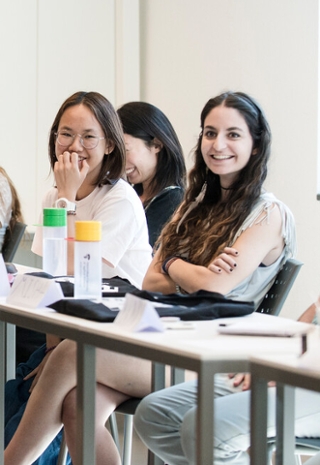 How does it work?
The workshops and events will be organised online, starting from 15 Februari 2021. We might offer them in a blended way (online and offline) when COVID-19 restrictions are eased and it is safe to meet in person. The online environment will remain for our international participants. Joining the programme is entirely free. Just make sure to sign up on time!
Can exchange students participate from abroad?
Yes, Yes and YES! The programme is organised online and in a blended way (online and offline). If you're not sure if you can travel to AUAS at the moment we still encourage you to apply and participate virtually. You are also invited to participate when your exchange has already been cancelled.
Learning objectives
During the programme, you will acquire:
Insight in the challenges of studying, living and working in an international field and how you can prepare for it.
New skills as a professional communicator/connector gained during workshops on intercultural communication, content creation, storytelling and networking skills.
An official recommendation from us, either as a letter or LinkedIn recommendation.
An official certificate after full participation in all workshops.
A broader international network thanks to the new friends you've made in the programme!
What do we expect of you?
You should be committed to the programme. Spread across the semester you will spend approximately 20 hours following the workshops and we will give you two assignments which you need to complete. After completion of the programme you will gain the title of AUAS International Student Ambassador. Your task will be to connect people and to share your international experience, whether it is on campus or abroad. You are a spokesperson for internationalisation at AUAS – students can contact you if they have questions about studying abroad, meeting international students, and more.
Interested?
More information about the programme will be made available in due time. Does this programme sound interesting to you? Then make sure to sign up and join our mailing list before the 25th of January 2021, using the button below. Through email we will keep you posted about the particulars of the programme.
If you have questions, please send a message to studentambassadors@hva.nl.