Student Ambassadors
Interested to see what a semester in Amsterdam looks like? Our student ambassadors are here to show you just that! They can help you with all your questions about living in Amsterdam and studying at AUAS.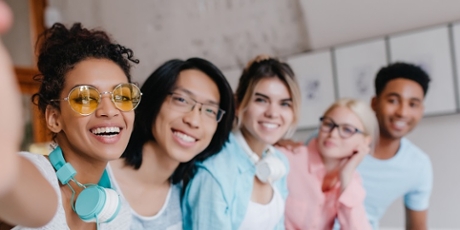 EXPERIENCES FROM OUR STUDENT AMBASSADORS
We believe that when you are thinking about studying abroad shared experiences are the best source of information! At AUAS we have student ambassadors wo can help you by sharing their experiences. They can help you prepare for your exchange and can show you what it is like to be a student at AUAS and living in Amsterdam. Our ambassadors wrote blogs and recorded vlogs about several topics for you to check out. You can also e-mail them directly with your questions!

WANT TO BECOME A STUDENT AMBASSADOR?
During your exchange you can also become a new student ambassador! By becoming a student ambassador you can become a 'lifesaver' for those students who might want to do their exchange in Amsterdam and help the next generation of students. You will also get a new outlet for your stories and experiences once your friends are tired of listening! You will receive interesting workshops and acquire new tools. Spreading the word by sharing your exchange in any possible way when you return to their home university is what we ask in return.