Master Digital Design
Digital Design. Master's, full-time
The Master's programme in Digital Design educates professionals who create, adapt, and apply design processes into interactive digital products, while driven by an ethical perspective on people, profit and planet.
This one-year Master of Science programme is the result of a partnership between the Amsterdam University of Applied Sciences (AUAS) and nine leading Dutch design agencies: Achtung! Mcgarrybowen, BBDO Amsterdam, DDB Unlimited, Dept, Fabrique, MediaMonks, Mirabeau, Momkai and Woedend!.
Through our unique skill-set combo of academia, industry and stakeholders, we provide our students with the skills to become the design leaders of tomorrow.
Become the design leader of tomorrow
Our world is ever-changing with new technologies, needs and opportunities. New challenges arise from local and global levels. Consumers are demanding new solutions, not just to interact with brands, but also to take ownership of their own issues. At the same time, cities around the world are becoming 'smarter', with pervasive technologies and interconnected sensors. In Europe, the number of smartphones per person is the second highest in the world. New designers are urgently needed to address the increasing complexity of our connected society.
Student background
Every year, the Master's programme in Digital Design welcomes an exclusive group of talented professionals from all over the world. Our students believe in design as an agent of change. They are as creative as they are critical; they embrace experimentation and have the ability to think outside design rules and conventions.
We have got a 50-50 proportion of gender-identities as well of Dutch-nationals vs internationals. Students' ages have varied between 21 and 38 years old at time of enrolment.
The programme is ideal for those wishing to advance in their digital design strategy, leadership and process. We encourage applications from candidates over the age of 30.
Want to check more design stories from our alumni?
Partners
Students at the Master's programme in Digital Design work with a network of partner companies, organisations, and agencies in real-life briefs. The projects seek to tackle societal challenges by applying design processes. Students are grouped into multidisciplinary teams and work as part of a design studio-setting. Partners become de-facto clients who supervise and provide guidance to the students work. In addition, students benefit from regular coaching and feedback sessions from leading Dutch design agencies (Knowledge Partners). These professionals advise the students in overcoming their challenges or taking new directions in their approach.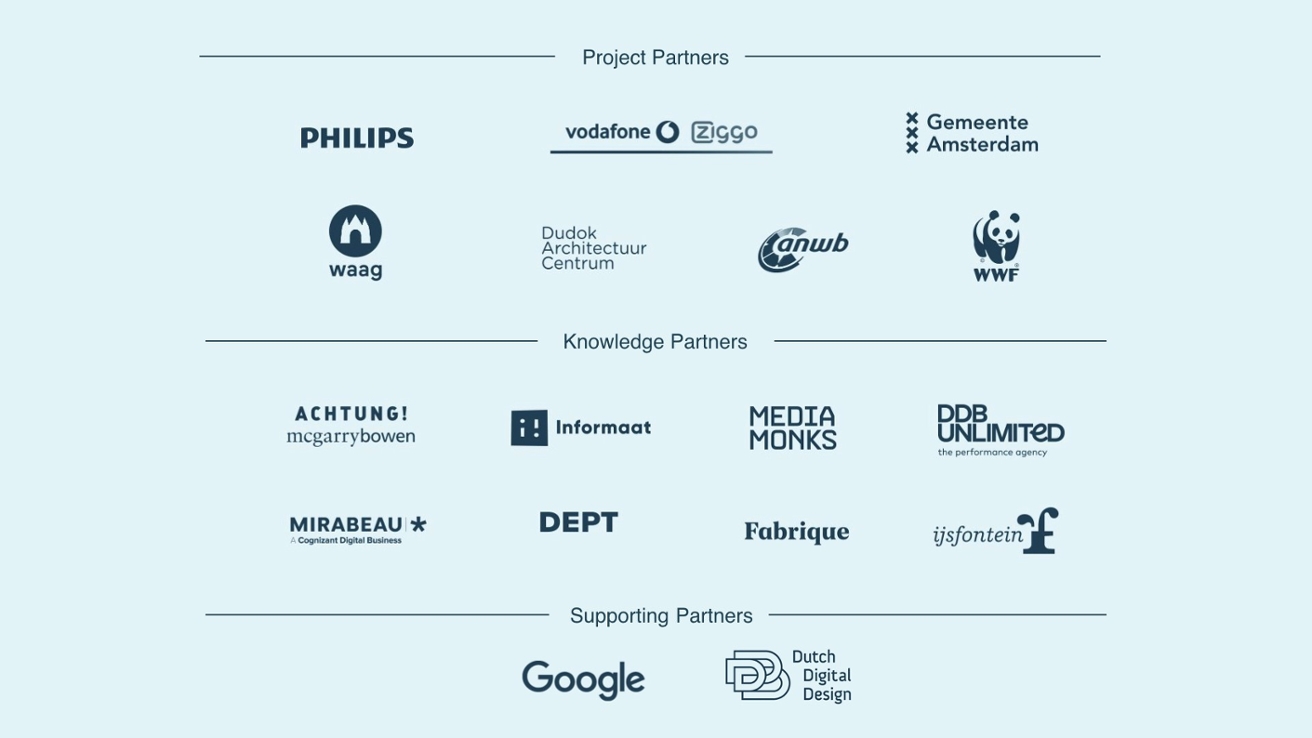 Key information
Faculty of Digital Media and Creative Industries