Story
Emma shares her experiences about the first-year at Sport Studies
Student Sport Studies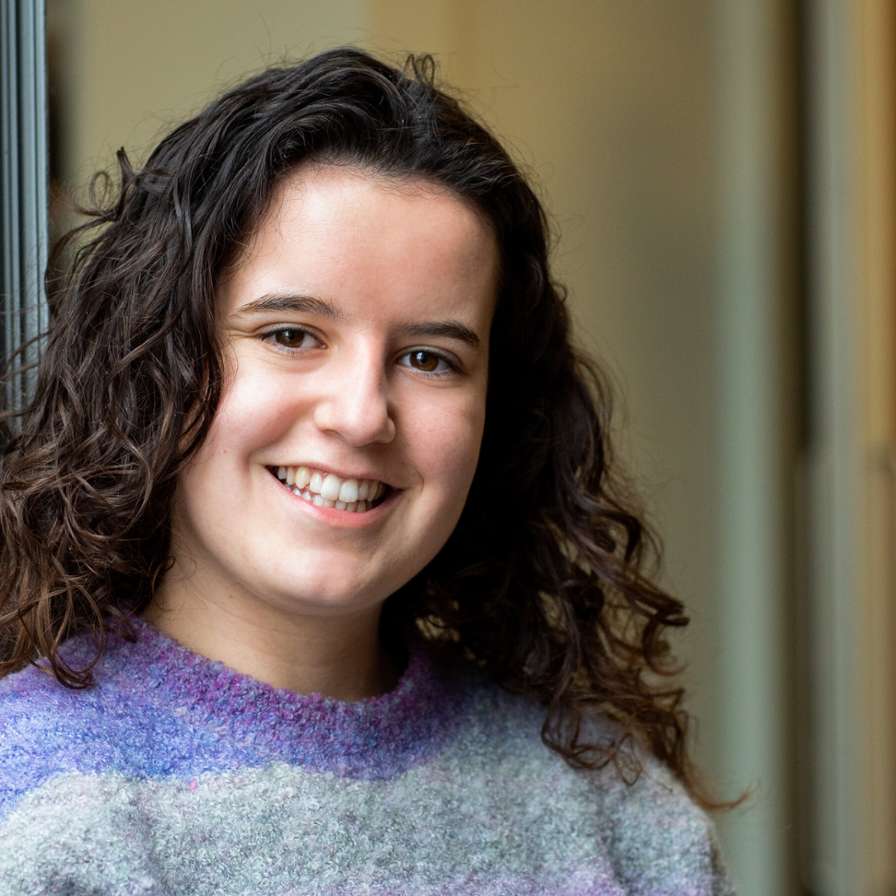 'When I discovered Sport Studies, I instantly knew it would allow me to keep connecting with people from all around the world'
Why did you choose Sport Studies?
'I grew up in a very international environment. I have lived in Ghana, London, the Netherlands, Tanzania, Moscow and graduated from high school in Rome. I have gone to international schools my whole life so being around international people feels very familiar. When I discovered Sport Studies, I instantly knew it would allow me to keep connecting with people from all around the world.
I also wanted to study business and work in the world of sports. Sports has always played a huge part in my life. I grew up playing both football and basketball, but football was my favourite. Even in school, any paper or assignment for which I could choose my own topic, I linked it to sport. So naturally, I wanted to expand my knowledge of sport and make the connection between business and sports. Furthermore, the Sport Studies programme allows me to build a foundation and network to pursue a career in the world of sports.'
How was the introduction week?
'The intro week was a unique experience. It really set the tone of what the next years at Sport Studies were going to be like. It also allowed us to already make strong bonds that create lifetime friendships.'
How was your first semester?
'It's always hard and scary to have to leave home and live by yourself for the first time but it pushed my independence. Other than the usual hiccups when starting and getting to know new systems, Sport Studies has really created a foundation which gives you a smooth landing when you start.'
Which subjects do you get in the first year?
'We have a balance between practical classes and theory classes. Some cool practical classes we have had so far are Martial Arts, Dance, Ice Skating, Football, Basketball, Volleyball and many more. My favourite was Ice Skating. I had never speed skated before, only ice skated a few times, so it was cool to see my own progress. I also really enjoyed Football, Basketball, and Volleyball because we worked in groups leading up to a tournament, for which my team won 3 of the 4 sports. 
For the theory classes, we have a lot of business classes, such as Finance, Economics and Marketing. Since I want to go into marketing, I really enjoyed this class. But we also get sport related classes like Sport Psychology. I also like Event Management because it's very hands-on. We are required to create our own event in groups. Personally, I learn best by applying knowledge into practice, Event Management allows me to do this. Certain classes that I find difficult are Finance and Economics, since they require you to be very proactive and spend a lot of time understanding the content.'
How is the balance between theoretical subjects and sports subjects in the first year?
'In the first year there is an even balance between the number of theory classes and sport classes we must take. Some of the theory classes tie together with the sports classes, such as Technical Sport Theory. In class we learn how to analyse ourselves in ice skating and athletics to create a programme which helps to develop our skills. In Sports Psychology we often make connections to occurrences that take place in our sport classes. The rationality behind taking sport classes is to proactively do sports while learning about the business world of sport. And to create connections and links between the theory and practical classes.'
How is the atmosphere on campus?
'Sport Studies feels like a family, and everyone just looks out for each other. Since we are the only English programme on campus, we all know each other well. All in all, I'd say that the campus is very welcoming and athletic. Almost every day we do sport, so you always have that sporty feel on campus as well. The relationship between lecturers and students is also very outgoing. Since our classes are not very big, we get the opportunity to create a solid relationship with lecturers. They are also very understanding and willing to help you out as much as they can.'
How do you like studying and living in Amsterdam?
'I couldn't be happier; I have been living in Amsterdam since September and so far, am loving it. Amsterdam is such a special city. It has got a perfect balance of architectural beauty, culture and most importantly, nightlife. Everything is accessible by public transportation or by bike, which makes life a lot easier. I personally think Amsterdam is a perfect city for new students starting their studies because the atmosphere in the city just makes you feel so welcome.'
Do you already have an idea of what you want to do after graduation?
'I think I want to go into marketing, specifically working in women's football. The industry has been growing over the years and ever since I was young, I always been very passionate about football and having more equality within this sport. Ever since I was young, I was fighting to play with the boys. Now I think you really see girls are starting to get recognition for their talent and potential in football. Sport Studies is a very inclusive study programme where everyone feels safe, regardless of their skill levels. I think as a girl coming into Sport Studies, I feared the judgement of my skills, especially by the guys. Now that I am here, I realise how the opposite takes place. Everyone supports each other and there is no judgement toward anyone.'
Do you have any tips for upcoming first-year students of Sport Studies?
'Make the best of intro week, and just put yourself out there. Meet as many people as you can, people in this programme are very approachable. This allows you to start to create a network, which is very important, especially when you are looking for an internship.'