Story
Joia and Romana did their 2nd-year internship in South-Africa
Graduates Sport Studies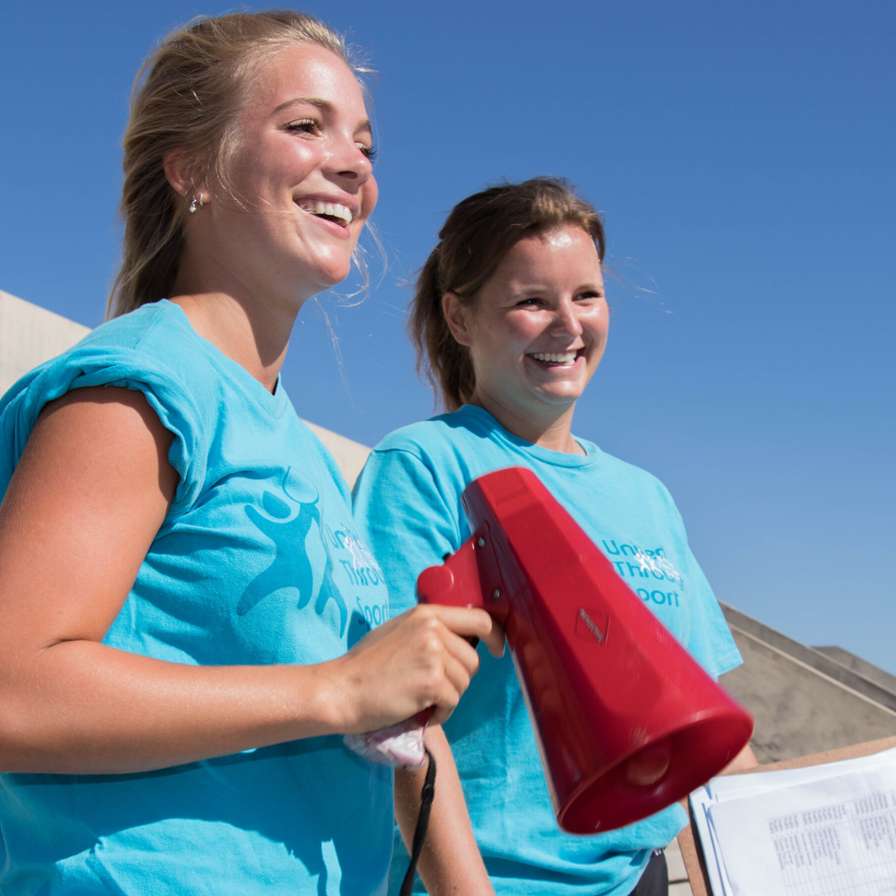 'I always wanted to work with children in a developing country. When I started Sport Studies I knew that this dream could become a reality.'
Joia and Romana did their second-year internship at United Through Sport (UTS) in South-Africa. The organisation works with over 40.000 children in disadvantaged communities. Both students spent ten weeks in Cape Town, organising their own sports event and working with volunteers from all over the world.
Why did you choose United Through Sports for your first internship?
Romana: 'Since I can remember I always wanted to go to a developing country to work with children. When I started Sport Studies – track ISMB I knew that this dream could become reality. By going to South-Africa I really came out of my comfort zone. We lived in a big house with volunteers and interns from all over the world. I love to have people around me so I enjoyed it very much to live with so many people. I made a lot of new friends and was able to share stories and experiences immediately with people around me.'
Joia: 'I heard about United Through Sport from Romana. I had never visited South Africa before and therefore had no idea what to expect. After searching online, talking to friends and family and meeting up with Ruben Baarda (country director of UTS in the Netherlands) I decided South Africa would be a good place for my first internship. I love working with children and I have been a dance teacher since I was 16 years old. Coaching children from disadvantaged areas and organising fun and careless days for them seemed to me as an amazing experience.'
What kind of work did you do during your internship?
Romana: 'We both had our own project. I organised a tournament in 4 different sports between 3 schools. The week was divided into days of coaching and days of working in the office. During the weekends we had time to explore the country. During our office days we worked on our own project. I helped Joia with her tournament and she helped me with mine, but we were both responsible for our own project.
Planning, organising and taking initiative was very important. Although we could ask our supervisor everything we wanted. All the other staff members were also keen on helping us when needed. There was a very relaxed environment which made working there easy and enjoyable. Working in an environment where organising an event is not as easy as in the Netherlands made the project challenging.'
Joia: 'On coaching days we had to get up early in the morning and jump in a bus full of volunteers. Every person was assigned to a coach in a different type of sport. On coaching days we visited 3 to 4 schools to teach children about physical activity. For my own project I organised a 5-a-side football league, divided over five weeks. I organised small fundraising projects, was responsible for the task divisions of the volunteers and wrote league tables, fixtures, e-mails and arranged materials.
I had to be strict and stick to my own planning in order to make the event run smoothly. One of my main goals was improving my leadership skills. I learned that as a charismatic leader, it does not make sense to try to fulfil every task on your own. In order to create a successful event, you have to be able to delegate tasks in a way everyone feels motivated to help you.'
How was it to live and work in South Africa?
Romana: 'We had to work in poor areas which made working different than in the Netherlands. During the sport classes we already saw the differences. There are less attributes to use and the fields are not that good as in the Netherlands. Most people don't have an iPad, smartphone or laptop. We communicated mostly face-to-face or through letters. The kids were always enthusiastic when we arrived. They crowded around the van, sang and danced with us as we unloaded the sports equipment.
When we returned to our accommodation, instead of taking naps and long showers, volunteers huddled by the pool or in the lounge to share stories about kids who improved tackling during rugby or told the funniest joke during practice. These hang out sessions made us appreciate our time with the kids more and helped us create stronger bonds with each other.'
Joia: 'When we arrived at Port Elizabeth airport, I immediately had my first culture shock. The airport is modern and looks fancy, but the moment we stepped into the Uber and looked around, I noticed there was a big difference between rich and poor. The townships not only looked undeveloped, the atmosphere was also different, not necessarily in a bad way. Dutch people are very individualistic, whilst in South Africa (in the undeveloped areas) lots of people work together and help each other out.
They are very open and welcoming. Even though townships can be dangerous, the people (especially the kids) are full of joy, very curious and they love to talk to you. Seeing people with such a positive attitude and mindset inspired me to appreciate what I have even more.'