HOW ARE YOU GOING TO MANAGE YOUR TIME?
Posted at: 16 Oct 2017

Have you ever wondered how a day in the life of exchange student sounds like? Next, I'm going to tell you about my Chaotic Fridays

Before coming here, I thought that Amsterdam was a place where you lived a relaxed life, that you used sometimes the bike and that the school was similar to mine. When I came I realized that you not only use the bike a lot but cyclists are like ambulances, they go as fast as they can, as to university refers we have plenty of tasks, unlike my home university.

In a normal Friday (my most active day) I start classes at 8.30 up to 10.10 and after that class, a second one starts at 10.20 and ends at 12.50. After that I go rushing to my home, I eat something that I already prepared and then go to the university again. The university is 5 minutes from home by bike when it´s not windy because on windy days riding a bike it´s the most unpleasant thing to do! I finish my class at 16.10 (the classes has a length of two and a half hours).

After school, I come home if I don´t have to do grocery shopping and I see if I have some assignments (I always have) and I do it until seven in the afternoon, that's the time when I catch my bike and I ride half an hour to my gym (it´s a Martial Arts Gym that's why is so far, normal gyms are everywhere), when I get there I practice sports up to 9.30 and then I'm back home to have dinner.

Of course, my day doesn't end there, after eating and taking a bath, we start planning with my friends what to do at night. We usually end going to the center to some pub or disco (there´s always a new one to know) so we go biking up to the center that it takes us 30 minutes but we go enjoying the beautiful canals so then it passes quickly. We drink some beer, dance or play some billiards and at three am more or less is the time bar closes so we come back home riding half an hour. Finally, when you lead in your bed you realize how much you rode a bike.

If you enjoyed this, you might also enjoy our next article called "How not to die in Amsterdam – getting around on a bike"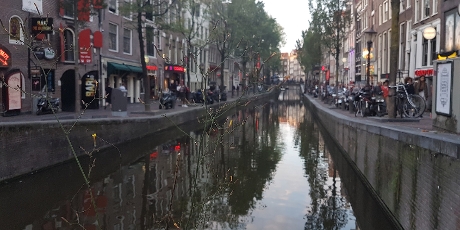 Watch the student ambassadors video