Before You Go-Go
Posted at: 2 Nov 2018 | Student Affairs

Solving the studying abroad dilemma: 'how do I fit everything in one bag?!'

When facing this question, keep in mind that people who live in Amsterdam get everything they need at local stores. So, take a deep breath and remember you can also find anything you may have forgotten, from school supplies to vitamins and toothbrushes.

Anyway, we have some tips that may help you:

START WITH THE BAG
To only have one checked bag - YOU CAN DO IT - you should get one long-haul suitcase or backpack (50lb, ~70 litres capacity). Oh, and don't forget that you can fit a smaller bag inside, so you may explore Europe during your free days or bring it as carry-on bag.

ROLL YOUR CLOTHES
Clothes take up a huge amount of space. Not only is rolling clothes the best way to save space as opposed to piling it up, it also prevents your clothes from creasing. Concerning sheets, linens and towels, see if your host institution provides these for you. If not, bring sets that you won't mind throwing away or donating at the end of your stay – it'll free up massive amounts of space for your journey home.

LINE YOUR BAG WITH SHOES
Remember to pack a pair of good walking shoes/boots, otherwise your feet might get extremely sore after only a couple of hours. To create more space for your other items, lay down your shoes along the walls of your bag.

MAXIMIZE ALL THOSE POCKETS
Use all those hidden pockets for your toiletries, underwear, socks, chargers, nail clippers and other tiny items. We advise you to load that suitcase up with as many underwear/socks as you can. The more you bring, the less often you'll have to do your laundry (which can get costly). Also, if you want, bring a couple travel sizes of your favourite toiletries, that way you don't have to run to the store the first time you need a shower.

TAKE ADVANTAGE OF TECHNOLOGY
A tablet computer can easily replace your travel books and magazines. Use it to store your travel tickets and you get to save even more space in your bag.
Do you want more details? Don't worry, we have your back!
we made a list just for you, with all the things you should bring.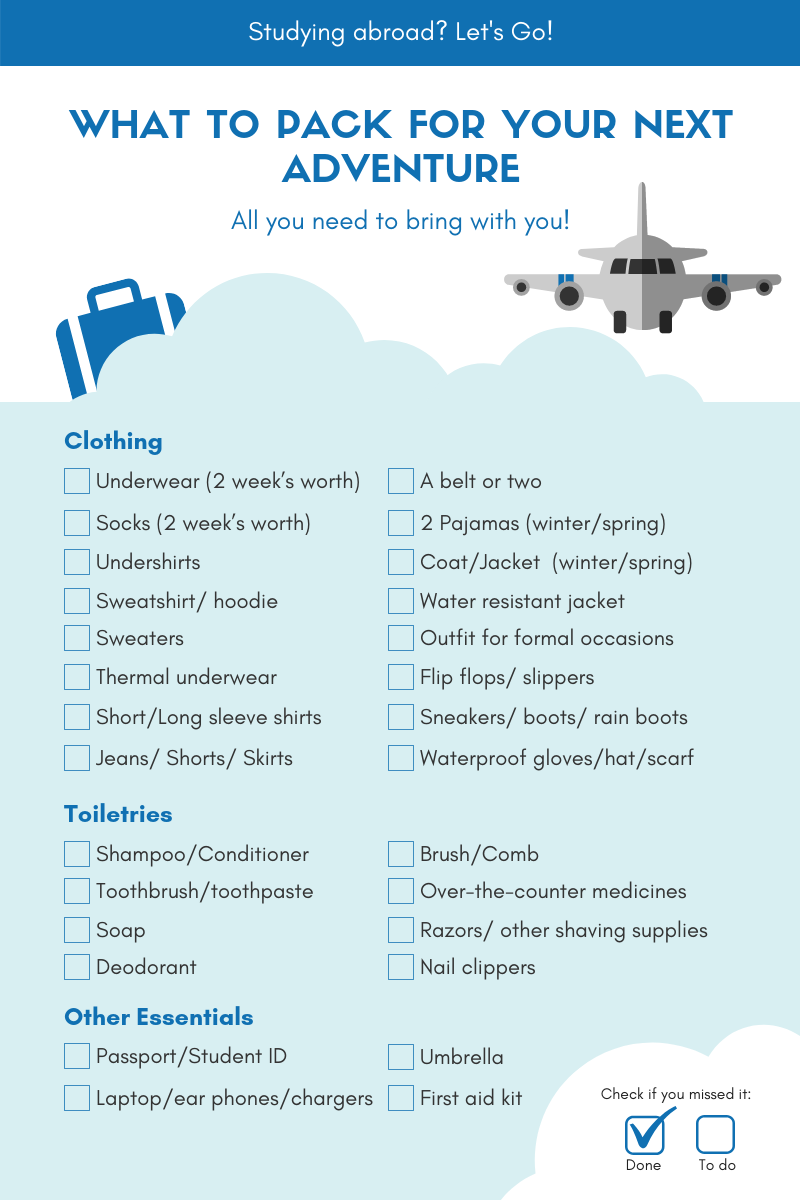 Watch the student ambassadors video