Five insightful tips for finding an internship
Posted at: 21 Jan 2020 | Communication

Hey, everyone! My name is Estella and I am on a one-year Erasmus exchange from the University of Worcester, United Kingdom, where I study Sports and Exercise Psychology. At AUAS/HvA I have been studying High Performance Sport (Minor) at the faculty of Sports and Nutrition during my first semester. This blog will share my top tips for finding an internship during your exchange.

When I was accepted to the AUAS, I learned that I would be able to do an internship in my second semester instead of one of the minors offered to me (I don't think internships are very common for exchange students who are here for one semester. If you are here for an entire academic year like myself, this opportunity will depend on your faculty and/or your minor). Although this sounded like a great opportunity, I really did not know where to start.

Personally I'm a real practical learner and I don't always enjoy being confined to a classroom setting, so a real goal of mine when coming to Amsterdam was to challenge myself in this way - and what better way to do this than by getting an internship, right? Even though I knew I wanted this challenge, I really had no idea what I was doing, where to start or when to start. I had so many questions... Fast forward to today (January 2020), I can't help but look back and reflect on how unaware I was when starting this search. This is why I'm going to share some helpful and encouraging tips from my experience that I wish I had known when starting my search for an internship.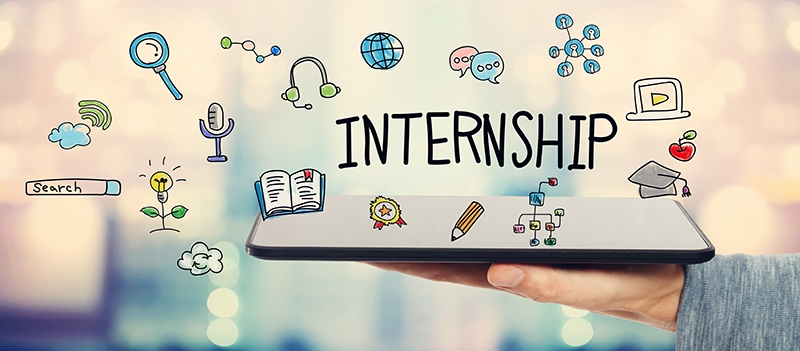 Have a plan of action
Independence - I was under the impression that I would get automatically placed into an internship through AUAS based on what you study here, but I was very wrong. The system at AUAS is very independent and relies heavily on students taking full control over their own internships, whether that is abroad or in the Netherlands.
Try to figure out what it is that you want- If like me you have so many different interests, it can be hard to do this. What helped me was thinking about what it is that I wanted to do right now, and what experiences could wait until another time in my life.
Narrow it down as much as you can - Being specific will make it easier to search for an internship and also help you to convey that to potential employers too.
Language barrier - I only speak English and I was told that this is a potential barrier for employment in Amsterdam. However, English is so widely spoken here that I was convinced that, with enough research, I would find an internship anyways - and I did! Tip: Honesty is the best policy.
Don't be afraid to ask for help
Use your immediate network - Reaching out to other students was daunting at first since I had only been studying at AUAS for a few weeks. However, hearing about their experiences helped me understand what was expected of me and who I should speak to.
Centuri - Finding informed staff members helped me to, a) find someone who could advise me, and b) find a database that AUAS/HvA staff and students have access to: Centuri. This helps them to find internships, contacts, role descriptions and a history of students who have worked there before so you can reach out to them for peer support.
The people around you may also have their own network
Sometimes it's not what you know, it's who you know - In my minor we were very lucky to have regular guest lecturers, but don't underestimate who your lecturers, peers or friends know and can give you access to. You'll never know if you don't ask!
LinkedIn, LinkedIn, LinkedIn!
I was only made aware of the real LinkedIn trend towards the end of my first semester of studying so I didn't actually use this during my own search. If I were to do it again, I would use LinkedIn. It's a popular platform here among students and employers who are looking for internships/interns and is a great way to promote yourself and connect with others. It's basically another form of social media, but for professionals.
Beat the rush! Start early.
There are thousands of students at AUAS/HvA, so don't waste any time. Get looking early to take the pressure off yourself and find something you think you will enjoy before it's gone (I started looking in October 2019 for February 2020 - this is one particular thing I am glad I did!).
Don't be afraid to check in on potential internships - It sounds obvious but knowing the progress of my interviews and emails really gave me peace of mind and just helped me understand how far I had to go to secure an internship.
Be open minded- It is good to know what or how you want to be involved in an organisation but also bear in mind that organisations may have specific areas they would like to place you in. Don't be surprised if the role looks a little different than you imagined. But remember, it is also okay to look for alternatives and not settle straight away if you feel like it is not a good fit for you.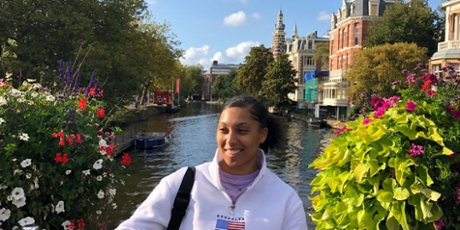 I'm happy to tell you that I'll soon start my internship with the Netherlands Women's National Basketball Team!
Thank you for taking the time to read my blog post. I really hope this information was helpful and gave you some insight into my experience of what it was like searching for an internship in the beautiful city of Amsterdam!
Watch the student ambassadors video