Student Ambassadors Workshop: Going International
Posted at: 20 Nov 2019 | Student Affairs

The AUAS International Student Ambassadors recently hosted a workshop during the university's annual event for Dutch students considering studying abroad: Going International 2019.

Organised on 13 November, the workshop was conveniently timed just before The Week of the International Student.

The event covered a broad range of topics, from personal experiences, to general tips about going abroad. The student ambassadors shared some facts about their home countries and debunked some myths during their workshop 'Being International', such as:
Japan isn't just full of anime, there is so much nature and other sites to see, such as amusements parks and gardens.
People from Kazakhstan are incredibly hospitable, and are always happy to lend a helping hand.
You need to try bubble tea if you go to Taiwan, and if you go on an exchange you might even see monkeys hanging around campus.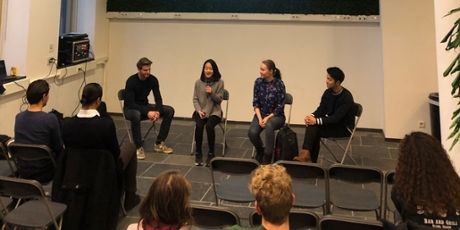 The student ambassadors also shared their tips for going abroad.
Here are the top 3 takeaways;
Don't be scared, everything will turn out okay.
PARTICIPATE! Especially at the start of the exchange when welcome week events are going on. That time is the best because everyone is in the same position and looking to meet new people.
Engage in the culture. You chose your exchange location for a reason, so make sure to make the most of it by trying to speak the language, shopping locally, and participating in community events.
If you're thinking about doing an exchange, The Week of the International Student is the perfect time to go to workshops, ask questions, and meet people who have already done a study abroad. You can also always reach out on social media and one of our team members will try their best to answer any questions you may have!
Watch the student ambassadors video