U!REKA Connects 2023
Event

The annual U!REKA networking event U!REKA Connects will be hosted by the Amsterdam University of Applied Sciences, from 30 May - 2 June.
Join us for the European networking event U!REKA Connects 2023: Let's SHIFT!
The Urban Research and Education Knowledge Alliance (U!REKA) will organise its annual gathering from 30 May to 2 June in Amsterdam, the Netherlands. Hosted by the Amsterdam University of Applied Sciences (AUAS/HvA), this event will focus on the shift needed for a sustainable future, both within the U!REKA network and beyond.
Are you new to U!REKA? It's a European network of seven universities of applied sciences operating in urban areas. U!REKA Connects brings together our higher education institutions (students, teachers, researchers and support staff) and select external partners. Attendance is free of charge and includes workshops, food and drinks, social events and more.
Event theme: Let's SHIFT!
SHIFT stands for U!REKA's strategy – working together for a Sustainable Human Inclusive Future-proof Transition. U!REKA Connects will bring this theme to life by sharing best practices, cutting edge knowledge and expert insights on education and research across our network. Join us to learn more about future proof ideas, sustainability imaginaries, the EU Year of Skills and much more.
Some highlights from the programme:
Amsterdam city tours: go on a field trip, discover the Amstel Campus, join a cycling tour, visit living labs and more!
Workshops and presentations on topics such as climate change education, Doughnut Economics, Collaborative Online International Learning (COIL), assessments in the age of Artificial Intelligence, the Sustainable Development Goals for business growth and much more!
Amsterdam deep dive experience: swim in the Amsterdam canals and enjoy a digital detox
Inspiration market where experts pitch their ideas
U!REKA SHIFT interactive session on what steps should be taken for future impact
Green mobility expert discussion: opportunities and challenges in smart cities, from cycling to aviation and beyond
Networking opportunities with your European peers: join us for breakfast, drinks, dinner and more!
Travel and accommodation
Are you based outside the Netherlands and interested in attending U!REKA Connects? Please see this information about travel and accommodation.
We look forward to welcoming the U!REKA community to the AUAS and to Amsterdam this Spring!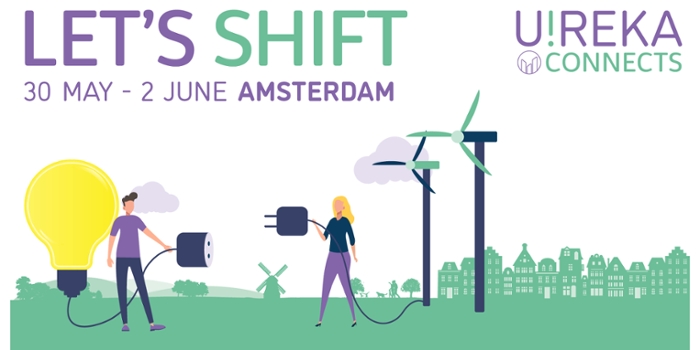 About U!REKA
The Urban Research and Education Knowledge Alliance (U!REKA) is a consortium of seven European universities of applied sciences. We collaborate in education and research activities to educate, shape and empower the European professionals of tomorrow.
U!REKA partners:
Amsterdam University of Applied Sciences (Netherlands)
Edinburgh Napier University (United Kingdom)
HOGENT University of Applied Sciences and Arts (Belgium)
Frankfurt University of Applied Sciences (Germany)
Metropolia University of Applied Sciences (Finland)
VSB – Technical University of Ostrava (Czech Republic)
Politécnico de Lisboa (Portugal)