AMSIB student represents the Netherlands at United Nations
1 Jun 2016 00:00 | Amsterdam School of International Business

Second year Amsterdam School of International Business (AMSIB) student Moreno Weilenmann had the honor to be country delegate at Change the World New York 2016: an international conference organised by Rotaract Global Model United Nations at the United Nations (UN) headquarters in New York City.

During the academic Rotaract Global Model United Nations conference, youngsters from around the world debate about current economic, political and social issues to learn how to influence decision-making at international level and to give recommendations to international organizations like the UN.
Interact with different cultures
Moreno Weilenmann is a second year student of the International Business and Management Studies programme and participates in the Studium Excellence programme of the Amsterdam School of International Business. Moreno was delighted to attend the international conference: "I really liked the opportunity to adopt a diplomatic role and to meet and interact with different cultures and other ambitious delegates from around the world".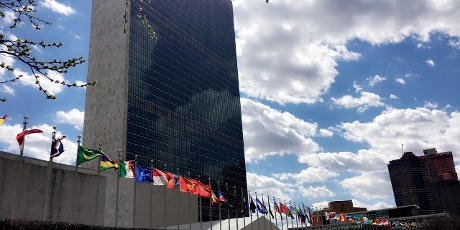 Global mindset
At AMSIB, Moreno developed a global mindset. Attending the Amsterdam University of Applied Sciences (AUAS) Winter School 2015 in Georgia, really woke his interest for international business and affairs, and also gave a boost to his personal and professional development. As a result, he took the challenge and applied for Change the World New York 2016.
It also challenged him to test his interpersonal and intercultural dialogue skills, together with research skills since he had to work closely with ambassadors and political analysts, all which he learnt at AMSIB.
Out of multiple Dutch candidates, he got selected and he took off to New York in March for one week. Moreno: "during the three-day conference, I had to represent Iran as a member of the United Nations High Commissions for Refugees while debating on political, social and economic issues. Being a country delegate at Change the World New York 2016 learnt me more about intercultural awareness and reaching consensus via dialogue and negotiation. It also gave me the chance to broaden my international network. For example, I got the opportunity to do my internship (mandatory for all AMSIB programmes) in New York City next year".