Order WRITIC Manual
We have received a lot of interest from all over the world as a result of the international publications on the development of the WRITIC and its psychometric properties. People from different countries in and outside Europe, who speak different languages, have indicated that they want to translate the WRITIC into their own language.
About
Because Dutch is a not a well-known language, we have decided to start with this English translation. The English-language manual 'Ready for handwriting' offers opportunities to further translate WRITIC assessment from English into different languages.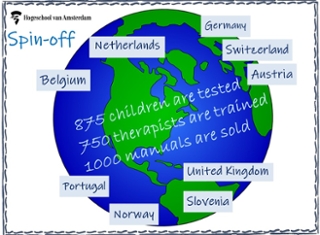 Translation of the manual
The English manual is a complete translation of the original Dutch manual. The first part about Theory and the third part about Recommendations are a direct translation from Dutch to British English with minor cultural changes. This was performed by the RIGS expert translation service in Amsterdam and edited by the authors.
The second part on Assessment included a formal forward and back translation from Dutch to British English that was performed by the same expert translation service. The translation emphasized conceptual rather than literal translations, as well as the need to use natural and acceptable language for the target audiences of the assessment: British occupational therapists who will be administering the WRITIC and British kindergarten children who will be assessed with the WRITIC.
We were happy to have worked with Mellissa Prunty in this translation process. Mellissa is a Senior Lecturer in Occupational Therapy at Brunel University in London and chair of the National Handwriting Association in the United Kingdom (UK). She has screened the English version of the entire manual and we have discussed with her the discrepancies that have arisen from the forward and back translation of the second part of the manual: 'the Assessment'.
Order
The WRITIC can be purchased as e-book from Amazon. If you prefer a hard-copy, please contact us on writic@hva.nl. A hard-copy WRITIC manual costs €55,00 excl. shipping costs.
WRITIC in your language?
When you have interest in the WRITIC-assessment, conducting research with it and/or translating the WRITIC-assessment in your own country, please contact us: writic@hva.nl We are more than open to collaborate on international projects regarding the implementation of the WRITIC-assessment.
Projects are currently underway in the United Kingdom, Norway, Portugal, Slovenia, Germany, Austria and Switzerland.