Festive event kicks off the year in brand-new building
1 Sep 2022 21:18 | Communication

A hand gesture by Amsterdam University of Applied Sciences's (AUAS) Vice-Chair Hanneke Reuling and Alderman for Economic Affairs Sofyan Mbarki in a virtual environment opened the 2022-2023 academic year on 1 September. The festive event took place in the brand new Jakoba Mulderhuis building, the new home of the Faculty of Technology.

The opening was preceded by a lively programme of short conversations led by Goedemorgen Nederland presenter Lisette Wellens. Executive Board Chair Jopie Nooren made a case for the event's theme: doors open. Coming together to exchange and fine tune ideas helps everyone progress: students, staff and our partners in the city. "I want to emphasise that we are an on-campus university of applied sciences. So come here and be inspired."
From study success to student success
During the opening, the chair of the Executive Board focused on two priority areas for the coming year. "First of all: we want to move from study success to student success. This means that we want to work with students to explore which paths and methods of study are most suited to helping them be successful. We call these personal learning pathways. Of course, the focus is on obtaining a socially relevant and recognised diploma. This will affect the way we organise our teaching, and logistics. But also on our student guidance and support. We are intensifying student coaching.
And secondly: stronger together. We are a university of applied sciences with great strengths in all parts of the organisation. We recognise, however, that we can organise things smarter together by cooperating with one another. We can achieve more if we look more specifically at what we can do together and more uniformly, and at what issues lend themselves to customisation, which can be dealt with and decided in teams and/or degree programmes and research groups. Stronger together is also about how we work together in our surroundings, with the University of Amsterdam (UvA) in the service departments, with senior secondary vocational schools (MBO) on the further development of the Associate Degree, with other universities of applied sciences on teaching and research, and with partners such as municipal authorities, businesses and civil society organisations (CSO) in our education and research. That is inspiring and plays an important role in our ambition to help solve the social issues of today.'
Circular Amsterdam
One of the partners in the city is the Amsterdam Economic Board, represented by Claire Teurlings. "Circularity is about keeping products in use longer. Currently, much of our clothing is incinerated or winds up in landfills. That isn't tenable of course," she says. "We therefore want to look at how we can bring about a behavioural change, in individuals as well as in organisations and businesses." The 'disruptive thinkers' of the AUAS can play an important role in this.
Three universities of applied sciences from the Amsterdam metropolitan region are working on this issue together in the CIRCOLLAB project (Dutch information). "We are working with 32 partners and eight research groups to study that behavioural change," explains professor Inge Oskam. "We are carrying out applied research to determine what technological, social and economic innovations are needed to achieve that change."
A good example of such a circular design came from AMFI alumnus Kate Antonenko. The Ukrainian designer used the advertising banners that shielded the Jakoba Mulderhuis construction site to design a dress that was worn by soprano and AUAS staff member Maud Brugmans during the official opening of the academic year. She sang a song composed especially for the occasion, accompanied by harpist Merel Naomi.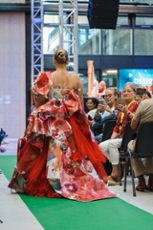 More diverse
During the opening, Alderman for Economic Affairs Sofyan Mbarki reflected on his own time as an AUAS student. "It all looks so much nicer now. I think it's very important to have such a great focus on that rich learning environment, because it's also very important to us that students are already included in the social challenges of the city during their studies."
Mbarki did take advantage of the opening to make a critical comment. "The AUAS has been important for many first-generation students in Amsterdam. The student population is diverse. But looking around, I think the staff population could be a little more diverse." Jopie Nooren agreed. "This is one of the most important tasks we face."
Bats and swifts
Vice-Chair Hanneke Reuling, whose portfolio includes operational management, spoke about the Jakoba Mulderhuis building itself. "It's been a huge undertaking, so I think everyone who was involved should be very proud. We wanted a building that was future-proof, sustainable and visible, and I think we have achieved that." In addition to the open space that facilitates interaction, she mentioned the bats and swifts (birds) that have taken up residence on the roof, adding to the city's biodiversity.
Building as teaching material
"Innovation is created by interacting with each other and we wanted to capture that in this building," explains architect Stefan Prins, who, as a former engineering student himself, found it a great challenge to design a building specifically for the Faculty of Technology. "We therefore wanted the building itself to serve as teaching material for the students. That you can actually show what the engineering of such a structure looks like." He referred to the black arch structure made clearly visible in a corner of the atrium.
The conversations between Lisette Wellens and her guests were interspersed with short talks between the ever-energetic New Scientist editor-in-chief Jim Jansen and several people including a proud Esther Ras, Dean of the Faculty of Technology, students working on clean mobility (a solar boat, a wind-powered car and a hydrogen car) and artist Saskia de Rooy who created a sculpture of the new building's namesake.
A short video of the opening will be made available soon.
Photography credit: Christa Romp