AUAS candidates receive scholarship for professional doctorate
31 May 2023 11:45 | Communication

Chico Taguba, Nadja van der Weide and Soemitro Poerbodipoero are the first AUAS candidates to receive their scholarships for the national Professional Doctorate (PD) pilot programme. With the PD, higher professional education introduces its own doctorate track. Candidates are trained to become highly qualified professionals capable of tackling complex professional knowledge and design questions.
The candidates
Chico Taguba is a nurse and a lecturer and researcher in the Nursing degree programme and the Integration of Psychiatric and Somatic Care research group. From this research group and the Prevention of Juvenile Problem Behaviour research group, he will investigate how young asylum permit holders with mental health and addiction problems are better able to find their way to getting help.
The Professional Doctorate track gives me the opportunity to build on previous research conducted in cooperation with Jellinek addiction clinic, Pharos (health inequality prevention expert centre) and the City of Amsterdam. This will enable us to understand the problem even better and also contribute to the solution from other angles.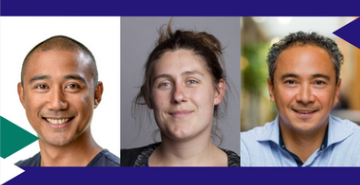 In the Art + Creative domain, Nadja van der Weide will explore the role of ownership, technology and participation in the facilitation of dialogue in local communities.
This PD track gives me a unique and wonderful opportunity as a social artist and as a lecturer and researcher to use my art practice to study mediated dialogues as both a creative researcher and an investigative creator within the Creative Media for Social Change research group. The focus of my PD will be on making that mediated dialogue more inclusive. I hope to encounter many conflicting, abrasive, enriching and inspiring dialogues in the coming years, which will help advance my creative practice, the students I teach, the participatory art and design field and local communities through this exciting art and design research project.
Soemitro Poerbodipoero is a lecturer and researcher in the Occupational Therapy research group. Within the Health & Well-being domain, he will study how the participation, wellbeing and self-direction promote the health of senior citizens who live at home. His research will contribute to health promotion in an innovative and sustainable manner.
The Professional Doctorate track offers a unique opportunity to work with community activities foundation Stichting Kraktie, lecturers, professionals, the Occupational Therapy research group, the Urban Social Work research group and the Zuidoost Neighbourhood Campus to discover what works best in practice to improve wellbeing and care for senior citizens who live at home. The research focuses on everyday life and ties in closely with senior citizens' daily lives.
Domains participating in the pilot
The national pilot involves a total of seven domains. The Amsterdam University of Applied Sciences (AUAS) is participating in the domains of Art + Creative, Health & Well-being, Maritime, Education: Learning and Professionalisation and Technology & Digitisation. There are 12 places available for AUAS in the pilot.
The pilot was initiated by the Netherlands Association of Universities of Applied Sciences in cooperation with the Ministry of Education, Culture and Science and the Taskforce for Applied Research SIA.