Christian
Testimonial
I was born and raised in the Netherlands, and it was not until two international exchanges in high school that my interest in different cultures and countries started to grow. I loved sports and did a range of things. However, I also really like to be challenged and to have the opportunity to grow and stand out. This made the business and economics industry also attractive to me. Combining these two ambitions and my interest in different cultures, Sport Studies – track ISMB was the right fit for me.
I knew I wanted to work in professional football for my strategic internship as I wanted to find out if I would enjoy working in this industry.

4th year - Sport Studies - track ISMB
Internships in Paris and Spain
Besides spending my minor at Coventry University in the UK as an Erasmus student, I did my operational internship in Paris. There I worked in the athletic department of the American School of Paris. I organised student sport tournaments and developed the promotion and marketing of school athletics in and around the campus. I loved living in one of the most iconic metropolises of the world as well as developing my French language and cultural skills.
Internship football club Villarreal CF
Currently, I am in my fourth year completing my strategic internship at Villarreal CF. I knew I wanted to work in professional football for my strategic internship as I wanted to find out if I would enjoy working in this industry. Combining this with my personal goal to learn Spanish, I aimed high and proactively approached any link I could find to Spanish professional football.
I got in contact with a student agency in Valencia who linked me up with football club Villarreal CF. I live in Valencia together with some Spanish friends whom I coincidentally got friends with during my minor in the UK. This helps to integrate into the Spanish culture. I also take Spanish classes.
Focus on local ties and roots
Villarreal CF is located in the small town of Vila-Real one hour north of Valencia. The club has strong connections with local businesses and runs numerous projects to develop and promote the Vila-Real region. However, besides its regional ties, the club has started to focus on international expansion, as the Spanish and European football market are saturated fan-wise.
Working at Villarreal CF
My daily tasks vary a lot. Sometimes I get to work on bigger projects, where I provide the international department with a research report on a specific market/country for example. But the work also includes more practical tasks or creating content for the club's social media channels. I also get to work on my strategic marketing plan on how the club can leverage the domestic fame of some of its international players to expand the brand to those countries and attract and engage with football fans to become big there.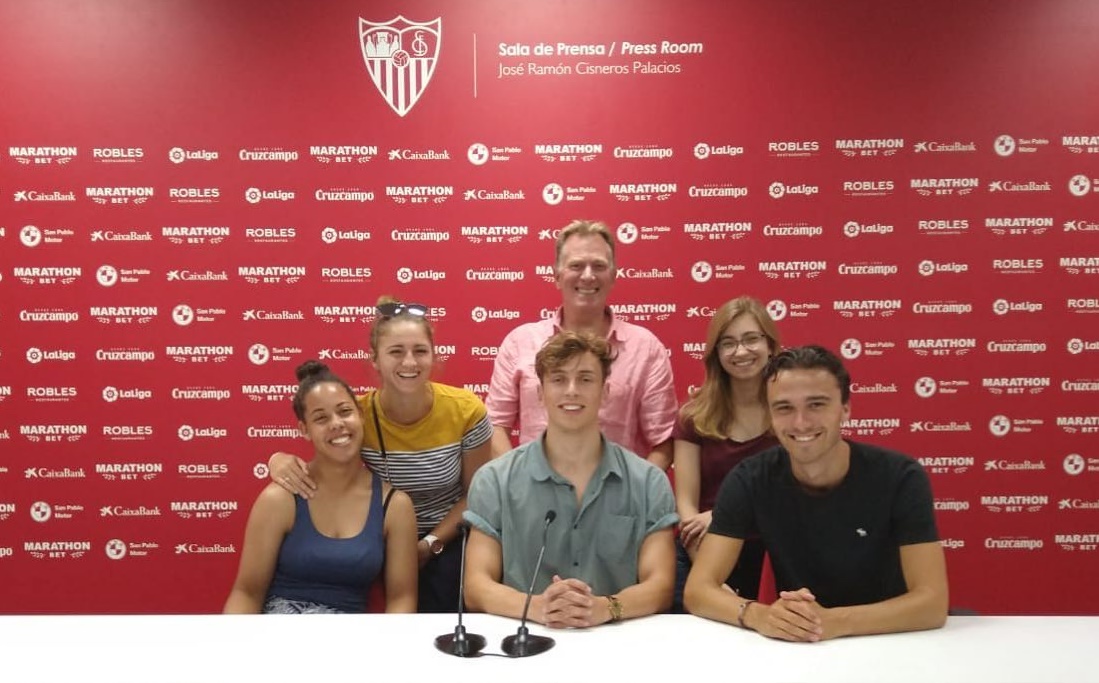 Board member European Association for Sport Management
Before I started my internship here, I visited the European Sport Management Conference (EASM) in Seville together with a group of students and our supervisor Jan Luitzen. The board's student representative of EASM contacted our supervisor prior to the conference with the message he was looking for a successor. When I heard about this, I was immediately interested. Besides the position itself, which is appointed for two years, the network and experience I could possibly build, appealed to me.
After the EASM conference I was lucky enough to be chosen as successor. I'm involved in the promotion and development of sports management in Europe. While doing so, I specifically focus on bringing universities and students together.
A career in the football industry
For now, I'm focussing on the professional football industry and trying to get myself a career in this field. First I would like to do a master related to sports administration. Then working for a big football club would be amazing. I aim high and would like to get an MBA at some point in order to work in an executive position where I can have a voice and influence in the world I am working in, but I'll see where that mindset takes me.