Lana
Testimonial
My Sport Management master in the United States will take two years to complete, after which I will hopefully start working in the US or alternatively see what Europe has to offer.
Sport Studies – track ISMB was the perfect way to combine my passion for sports with education, build an amazing CV, and develop myself through the sports classes and 'family feeling' the programme provides.

graduate - Sport Studies - track ISMB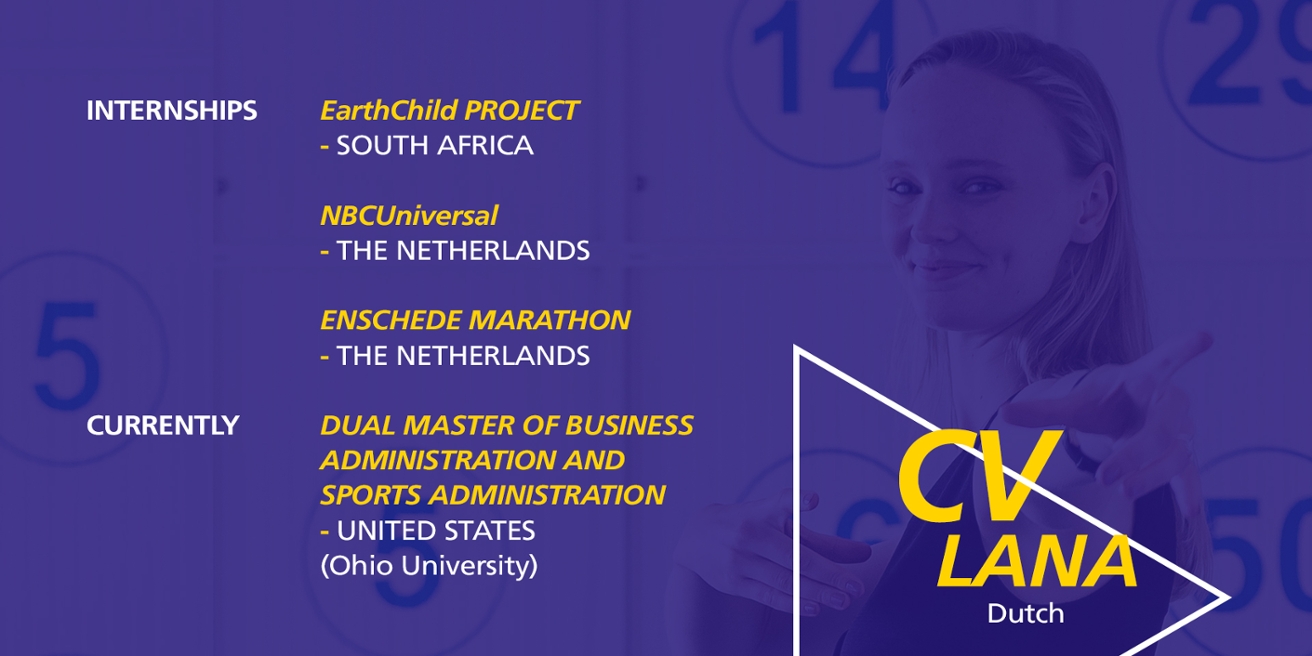 I was born and raised in the Netherlands but was lucky enough to have parents with international jobs who exposed me to a wide range of different cultures and countries during our travels. Growing up I loved sports; I did everything ranging from gymnastics to swimming and rock climbing. Studying in this field therefor seemed like a logical option.
Choosing my own study path
I wanted to gain as much experience as I could during my studies. I did one internship in the Sports Development area (EarthChild in South Africa), one in the Event Management area (Enschede Marathon) and one in the Sports Commerce area (NBCUniversal). I chose the minor International Finance and Control at the AUAS to get an even broader education, opening even more doors after graduation.
EarthChild Project – South Africa
EarthChild is a non-profit organisation in Cape Town. During my second-year internship I mostly focused on their social media marketing and fundraising efforts as well as teaching yoga classes to underprivileged children in the Cape Town townships. Living and working in such a diverse community for four months opened my eyes to a lot of issues most Europeans would never encounter.
Internship Multinational NBCUniversal
For my strategic internship I chose multinational NBCUniversal, a market leader in the entertainment industry. The sports and entertainment industry are very intertwined and this internship allowed me to see the opportunities Sport Studies – track ISMB offers outside the world of sport. I worked within the Product Management team on all the new Universal Studio movie releases throughout the Benelux. This meant creating marketing plans, analysing sales figures and managing the social media efforts. My strategic recommendation focused on analysing the remaining opportunities within the declining home entertainment market, forecasting sales and analysing the effectiveness of in-store promotions.
Graduation project: Enschede Marathon
During my graduation project for the Enschede Marathon (oldest marathon in Europe) I focused on the various ways the organisation could attract international participants; enabling them to compete with the Rotterdam and Amsterdam Marathon. The project required interviewing the government agencies involved as well as extensive research among the participants, coming together as a complete recommendation adopted by the board of the marathon. Beside my graduation project, I managed the social media efforts and VIP area operations during the competition day.
Master in the United States
During my strategic internship, I started mapping out my next step after graduation. I decided on the world's number one ranked master in sports management at Ohio University in the United States. The Sport Studies – track ISMB programme provided me with such a broad range of skills and experiences (the internships, minor and classes) which I believe helped me stand out from the crowd during the application process. Ohio University only selects twenty people each year for this master, making the selection process extremely competitive. It also offers these twenty individuals partial or full scholarships, depending on their performance. I was lucky enough to be selected as one of these twenty people.
Future plans
My masters will take two years to complete, one year for each of the degrees (Master of Business Administration and Master of Sports Administration) after which I will hopefully start working in the US or alternatively see what Europe has to offer!