Vincent
Testimonial
'At the age of 12 me and my parents left Germany and moved to Kenya. The 7 years we lived in Kenya had a great impact on the person I am today. I attended 3 different schools there: the British International School, the Aga Khan High School and the Shree Swaminarayan Academy. Being the only 'white kid' at Aga Khan was a challenging experience after attending a British International School first. Living in Kenya made me realise that most problems we have in Europe are not at that big at all. It has taught me to put things into perspective when challenges knock on your door.
The faculty has an E-Club for second-year students who are aspiring to become an entrepreneur; a great environment to start 'entrepreneuring'.

Vincent: student - Sport Studies
Focus on entrepreneurship
After graduating from high school in Kenya I moved back to Germany where I worked in an apple juice factory for a while. But soon I realised I wanted to study in an international environment. I was looking for a sport and business-related bachelor programme where I could get the right tools to start my own business one day. When I read that the third year of Sport Studies focuses on entrepreneurship, I knew I had to apply. No other programme seemed to be so entrepreneurial focused. That was the decision-making factor for me.
Starting my own business
From an early age I have wanted to start my own business. When I was just 13, me and my friend started to sell sweets illegally from our school lockers to fellow students. Now years later, I'm finally starting my first real business while studying here in Amsterdam. The faculty has an E-Club for second-year students who are aspiring to become an entrepreneur; a great environment to start 'entrepreneuring'. I signed up right away. You get a whole list of contacts and former students hold guest lectures about their journey. Understanding the market and carrying out research were the two key courses at the E-Club that really helped me grow.
Struggles of a young entrepreneur
During the first semester of the third year I had to create my own product or service. That's when I came up with the idea for the Fusion Kinetic bottle. The following semester I started my own business around the Fusion Kinetic bottle. I was the only one in my class. No one tells you what to do or how to do it. So you go and find ideas, books and mentors. But people still give you different advice and have different ways of handling business. I found it most difficult to find clarity. What must be done first? Is this the right step to take? It's really about trial and error and it still is. The world of business is a challenge. When you are young and unexperienced, not everyone wants to help you. Luckily Sport Studies offered me the gate to entrepreneurship.
Fusion Kinetic bottle
Right now, my girlfriend and I are running Fusion Kinetic together. The name was created to describe the functionality from fusing two bottles together. Kinetic comes from Kinetic energy. So, put together, it is the Fusion of movement to create a result. The 2-in-1 bottle is only part of what we stand for. We want to inspire people to live a healthy lifestyle by offering a product that motivates you to participate in sports and fitness. It is the same idea as having good running shoes. They will motivate you to go for a run. By using stainless steel as a material, we can make sure that sustainability is at the core of the company. The use of the bottle is not only for sports and fitness. After exposing the prototype to a wide range of people from different ages and backgrounds, it became clear that a 2-in-1 bottle can be used in other settings too. In the end, it is up to the people how they want to use the product.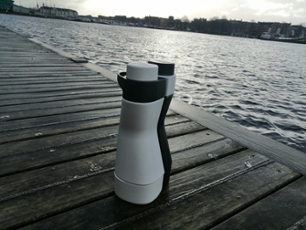 Making a real impact
After refining the business plan and implementing our vision to help people live a good lifestyle, a new version of Fusion Kinetic was born. Since I have strong ties to Kenya, we would like to work with Kenyan artists to design unique artwork that tell powerful stories to be displayed on our bottles. This way we would connect two worlds and promote highly talented artists who have a little chance to show their skills and are not taken seriously in the world of business.
Our customers will vote for their favourite piece of art which will be imprinted onto the Fusion Kinetic bottle. The artist will get exposure on an international level and customers have a chance to buy the artwork on fine prints. With our profits we want to support the creative communities in Kenya.
Zero waste
Bottles that are at the end of their lifespan can be send back to us free of charge and will be recycled into metal art and sold as scraps to scrap metal dealers. This way there is zero waste. Five percent of all profits will be used to work with the Pamoja Kenya foundation to build sanitation facilities and wells for fresh drinking water. With this approach, we can help solve many more problems and offer our customers a cause worth supporting.
Nomination Philips Innovation Awards
Since we have been nominated for the Philips Innovation Awards with the Fusion Kinetic bottle, new doors have opened. It's just a matter of time until the Fusion Kinetic bottle will start improving people's lives. I want to continue this path: helping people to stay fit and healthy through creative solutions. Whether it be a product or service.
Implementing technology
In the future I want to upgrade the Fusion Kinetic bottle and start implementing technology into it. We are living in the tech age and constant innovation is a must. Working on new ideas is really my passion and with the knowledge and experience I am gaining I'm looking forward bringing more ideas into the world and having a real impact in the world. If it fails, we learn and continue to develop the product, perhaps start a second campaign or seek other ways of funding.
The ideal situation is to graduate with Fusion Kinetic and directly catapult myself into the world of entrepreneurship without wasting any time. With a new business concept drawn out, it is now time to turn theory into reality. Having the first bottle produced with beautiful artwork from Kenya and a business strategy set up to secure funding would be ideal.