Faculty of Business and Economics
Elite sports coordinator FBE
Patrick van Balkom
I am Patrick van Balkom, teacher for the subjects Personal Branding, Communication Skills and Sport at the Economics department, Faculty of Business and Economics.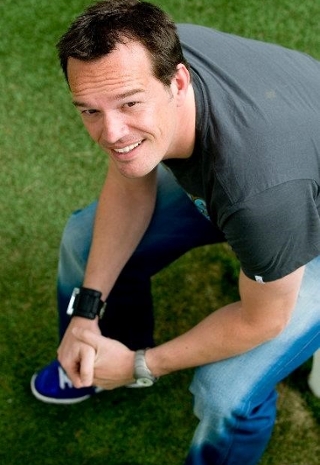 After obtaining my PE Teacher diploma at the ALO in Tilburg, I went through life as a top athlete in athletics (100m, 200m and 4x100m) for almost 10 years. I have been a national champion 18 times, won a silver medal in the 200m discipline at the Universiade in Mallorca in 1999, a bronze medal in the 200m indoor at the world championships in 2001, a bronze medal in the 4x100m relay team at the world championships in 2003 (in that year also voted sports team of the year at the NOS / NOC-NSF Sport Gala) and I participated in the Olympic Games in Athens in 2004.
After my own sporting career, I have mainly been involved in guiding, motivating and developing individuals and teams. I get a lot of satisfaction and energy from working with others on improving themselves and when plans work out. I put this into practice as a Strength & Conditioning Coach for NOC-NSF for more than 20 different (para) Olympic sports, as a Talent Coach for the bobsleigh and skeleton program at Papendal and as a Spa & Gym manager in hospitality.
Sport quote
"If you are motivated enough to put the work in, you can achieve anything in life you set your mind to."
Favourite sport
Athletics
Favourite sports moment
Michael Johnson who set a new, groundbreaking world record in 19.32s in the 200m final at the 1996 Olympic Games in Atlanta.
Favourite athlete
Michael Jordan