Elite sports coordinator FE
Michael Laarman
I am Michael Laarman and elite sports coordinator of the Faculty of Education. As a child I was always playing football until I came in contact with baseball and softball after an injury. From that moment on, those sports were my passion. In addition, I was interested in other American sports that I have always followed closely. From the age of 16 I started coaching and from that moment on I have been active as a coach in various sports.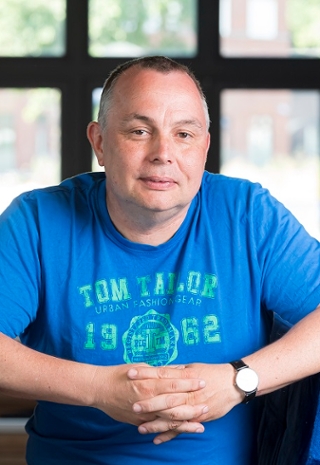 My coaching goes from youth teams within baseball softball to the ladies' softball team of Terrasvogels with which we became Dutch and European champions. Since my children started playing basketball, I also started coaching there, including the premier league teams in most youth age classes. In addition, I have always been involved as a board member at various associations because without a board there are no sports clubs in the Netherlands.
Sport quote
"The work of a team should always embrace a great player, but the great player must always work." - Sir Alex Ferguson
Favorite sport
Baseball and softball, basketball
Favourite sport moment
The Championship for the Toronto Raptors in the NBA season 2019, the first time a Canadian team becomes champion in the NBA. And winning the European Cup Women Softball with Terrasvogels as a coach.
Favourite athlete
Steve Nash, best guard the NBA has had and Sir Alex Ferguson, an role model for every coach.