Elite sports coordinator FH
Sarah Scherer
I am Sarah Scherer, teacher of Physiotherapy at the Faculty of Health. Both at home and at work as a physiotherapist (teacher), I am often involved in sports. I practices athletics for 12 years where I mainly specialized in hurdle race. In addition to my interest in the human body, my choice of working in physiotherapy also had to do with the fact that physiotherapists work a lot with athletes.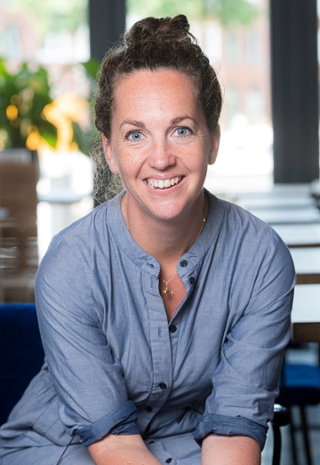 During my studies I had the chance to do an internship at Ajax and as a practicing physiotherapist I have been one of the permanent physios at the ABN AMRO tennis tournament in Rotterdam for 10 years now. At home, the TV is often tuned to sports. I follow cycling, tennis, football, skating and athletics closely but of course also major events such as Olympic Games, World Cups and European Championships.
Sport quote
"I'm a positive thinker, and I think that is what helps me the most in difficult moments" - Roger Federer
Favourite sport
Cycling, tennis and athletics
Favourite sports moment
There are too many to just choose one. When I think of the most beautiful sports moment, I immediately think of Epke Zonderland who wins Gold on the high bar at the Olympic Games in London 2012 with commentary by Hans van Zetten. It was magic to see Epke's performance and finish up with Hans Zetten's words: "…and he is standing, I am standing." I get goosebumps every time. In addition, as a cycling fanatic, I cannot miss the Giro victory of Dumoulin. And finally, the world record of Usain Bolt of 9.58 seconds at the 2009 World Cup in Berlin.
Favourite athlete
Roger Federer, Usain Bolt and Michael Boogerd (childhood idol)