Faculty of Sports and Nutrition
Elite sports coordinator FSN
Mark van der Laan
My name is Mark van der Laan and I am involved in many different sports subjects within the sports studies and sports science programmes. Originally, I was employed as a teacher for outdoor subjects but now I teach a wide range of theoretical and practical subjects. Among others, I teach various team sports, gymnastics and event management.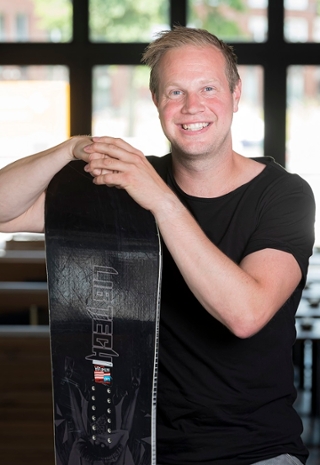 In my spare time I practice many different sports, from mountain biking to football and from running to diving. However, my greatest passion is winter sports and that is why you can find me in the Alps whenever possible. I don't care whether it is on one or two boards as long as I am in the snow! I also like to visit sports events and of course, there is always some kind of sports program running on my TV.
Sport Quote
"When it comes down to it, it's pretty simple. Adventure is what you make it. And whether it's the travel, the discovery or just the feeling of letting go, the only way we'll ever find out is to get out there and do it. Enjoy the ride." - Travis Rice
Favourite sport
Winter sports
Favourite sports moment
Too many to name them all. There is the beautiful last season of Ajax. Epke on the high bar in London 2012 but also Sanne Wevers on the balance beam in Rio 2016. Cody Townsend's line of the year in 2014. Tyler Bradt who sets the world record for kayaking the highest waterfall. And then the many highlights that my absolute snowboarding idol has to his name… Travis Rice.
Favourite athlete
Travis Rice