JOIN OUR DIGITAL DESIGN NETWORK
On this page:
Co-founded by the Amsterdam University of Applied Sciences (AUAS) and nine Dutch creative agencies, the Master's programme in Digital Design meets the market's need for the education of a new breed of digital designers: internationally-minded talented professionals inspired by an integrated perspective on 'people, planet, and profit'.
As of 2020, we welcome 48 international students each year. These students are chosen through a rigorous selection from hundreds of applications. Over the course of the Master's programme, students are grouped in multidisciplinary teams who work on projects reflecting societal challenges. These teams cover different aspects of design such as the aesthetics and usability of UX/UI, with an eye to research and strategy.
Our Partners Programme
Our partners are companies and organisations open to the design challenges of the digital age. They embrace risks and experiments, promote new visions, and welcome unorthodox approaches.
Partners bring real-life design challenges to work on with our students. Projects may vary from services, products, or systems but they should all have a research question at its core.
The complexity of each project is determined by its duration: the longer the project, the deeper students can go. This is a true collaboration that merges the expertise and experience of partners with our students' fresh research-based approach to design.
In addition, some of the founding agencies also contribute with guidance and know-how to support students in their projects.
Deliverables
At the end of each project, students offer verified quality concepts and processes thoroughly researched which will aid the partners in setting up the development of a project.
All projects are graded and supported by a team of expert lecturers. As an accredited programme by the Accreditation Organisation of The Netherlands and Flanders (NVAO), we assure high standards and quality-control.
Current Partners
Our partners for the academic year 2018-2019 are:
The Royal Dutch Touring Club ANWB, VodafoneZiggo, Informaat, Gemeente Amsterdam (City of Amsterdam), World Wildlife Fund (WWF), Philips Design, Dudok Architectuur, Ijsfontein, Waag, MediaMonks, Dept, ACHTUNG! mcgarrybowen, Mirabeau, DDB Unlimited, and Fabrique.
On our portfoliosite masterdigitaldesign.com you can find some of the case-studies our students have developed with our partners.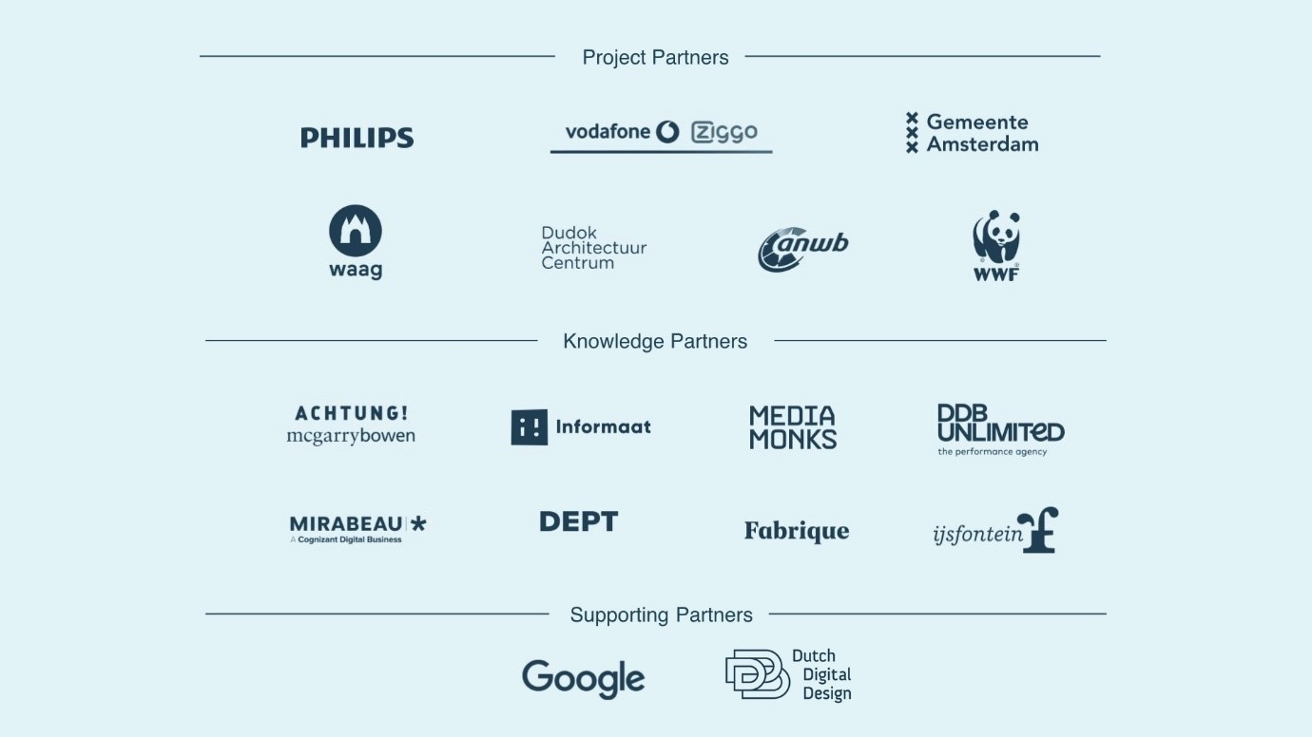 Why Become a Partner?
Partner with us to support the future of the industry and contribute to the advancement of a new design culture.
Bring in real-life design challenges: Open your company to fresh new ideas, unexpected surprises, and welcoming experiments. Work with our students towards the design solutions of tomorrow.
Go deeper: Welcome new and original insights based on thorough design research approaches. Be ready and informed before you develop your project.
Give your expertise a podium: We want to bring your world to our Master's programme: you have the experience, we have the innovators.
Lead the way: Together with our students, you will be at the front seat of the design culture of tomorrow.
Have new talent on speed-dial: Be ahead of the game and enjoy first-hand access to new design talent. You know your company is only as good as your best people.
Join This Network
Reach out to us and become part of our digital design network.
Send an email to our partnership manager: kyra@adbusiness.amsterdam.