Studying
The AUAS Library: Find your way in eight steps
At the AUAS Library you can borrow materials, find information or use our study places. Whatever course you follow, there is an AUAS Library for every subject. You can find our libraries in various AUAS buildings and online.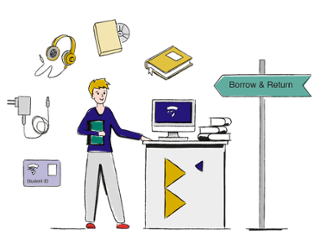 1. Borrow material
Whether you want to borrow a book, e-book, DVD or a laptop, the Library has a wide range of materials. You can borrow as much as twenty items at a time. Note that you can only borrow material with a validated student card.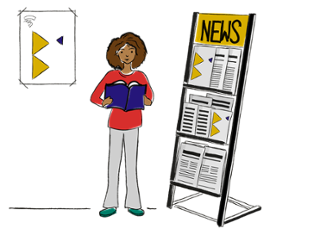 2. View magazines
The Library offers a diverse range of subject-specific journals. You can access all this information with "Journal Search" in the online catalogue. Of course you can also take a seat at our reading table and browse our printed magazine offer.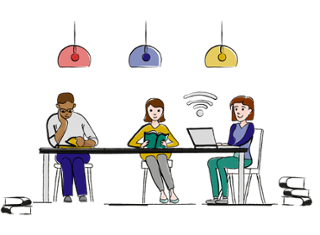 3. Studying
Are you looking for a quiet place to study, or do you want to work together in a project space? The Library has a wide range of study places. Inquire at the library desk about the possibilities.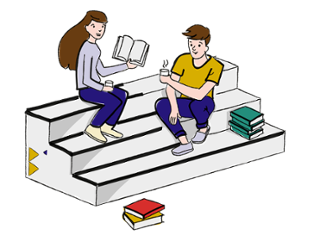 4. Meeting place
Whether you want to collaborate with your fellow students, quietly discuss with a teacher or just chat with a classmate. Join us in the Library, we have excellent coffee. Please mind the quiet room, where talking is obviously not allowed.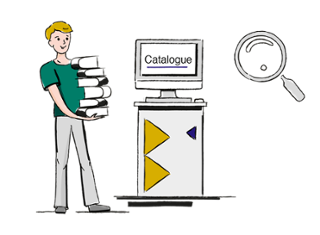 5. Search and find information
Whether you write an essay or your thesis, you need reliable information. Our online catalogue gives you access to a wide range of sources. In the library we have subject-specific databases, but also an extensive collection of subject-specific books, ebooks, ejournals and magazines.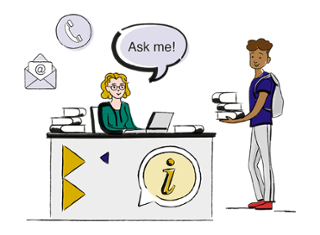 6. Ask your question
Can't find the book you are looking for? Do you have a question about sources? Our library staff is happy to help. Ask your question at the desk or online via our website. You can also make an appointment with one of our subject librarians for specialized help in finding subject-specific information.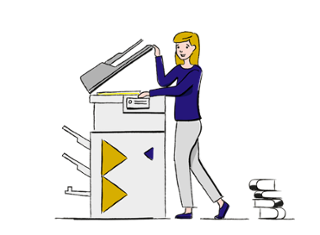 7. Copy, print and scan
In addition to studying and consulting sources, you can of course also simply copy, print and scan in the library. Make sure there is enough credit on your student card.
8. The library website
Whatever you are looking for, you will find all information about library services on our website. Are you struggling to find what you're looking for? Our staff is happy to help you.