Possibilities Sport Studies - Sportkunde
Study and internship abroad
Study Abroad - go for it!
On this page you find information about the options for students of Sport Studies - track ISMB and Sportkunde – leerroute SM&O to do a minor or an internship abroad.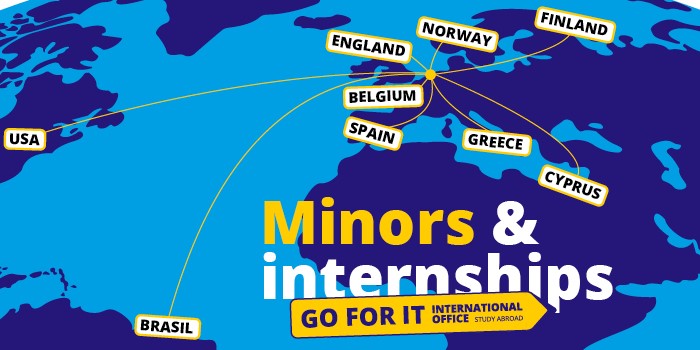 Application deadline minor abroad
The deadline for application at the International Office is 13 February 2023 at 09:00 hrs.
Internal selection procedure
Once we receive all the applications, the selection will be made based on the following documents:
Note: make sure to have a plan B and apply for a minor in the Netherlands. Check the overview of minors.
Application to a partner university
Once you are selected by the International Office for a certain partner university, you have to formally apply for this university. The procedure and deadline depend on the university; you will receive more information from the International Office once you are selected.
Your placement is certain as soon as the partner university has accepted your application and once the exam board and the partner university have both agreed on the courses you chose.
Courses
Most of the time, you have to choose your package of courses to complete 30 ECTS in total. This will count as your minor for AUAS. Some universities offer a variety of courses to choose from, and some offer a fixed programme of 30 ECTS like AUAS does.
It's also possible to follow your minor at a foreign university with which Sport Studies and Sportkunde do not have an agreement. In this case you will become a so-called 'free mover'.
If you follow your minor abroad as a free mover, you have to pay tuition fees to both the foreign university as to the AUAS.
If you study at a partner university, you only pay tuition fees to the AUAS.
As a free mover you cannot apply for the Erasmus grant. If you do your minor outside of Europe, the FBSV scholarship and Holland Scholarship are available however.
The application procedure as a free mover usually takes longer and therefore it is advisable to start your search for a foreign study place on time (about a year in advance).
Sometimes we can set up a contract with the university you wish to go to, so you will not have to pay double tuition fees. Please contact the International office for more information.
Have a look at Centuri for an overview of the options and contact Claire Powell, the internship coordinator of Sport Studies and Sportkunde.
If you are planning on studying or doing an internship abroad, you have to ask for approval from the exam board for the programme you wish to follow. This is necessary in order to make sure that the credits you receive abroad will be accepted here.
Visit the exam board page for more information on the Sport Studies exam board and to download the request form.
You have to add the description of each course you wish to take at the foreign university, as each course needs to be approved.
Please note: you should have approval from both the International office as the exam board to follow your minor abroad! We recommend you to hand in your Exam board request once you are selected by the International office for one of the partners (otherwise you may be requesting it for nothing!)
We advise you to ask approval for about 45 ECTS in courses (instead of 30). We do this because it happens sometimes that a partner university does not offer a course after all or because it's not possible to combine certain courses due to schedule clashes.
There are a few minors of other AUAS faculties in which students go abroad part of the semester. You can also apply for one of these minors.
For instance:
You can also follow your master abroad, after finishing your bachelor in Sport Studies or Sportkunde. With the following universities and master programmes we have good contacts and/or experiences. Of course you can also search for a foreign master abroad by yourself.