National Education Programme
Learning communities for students with study delays
The Faculty of Applied Social Sciences and Law is using some of its funding from the National Education Programme to provide extra teaching hours to help students with study delays. The extra teaching is done in so-called learning communities.
The newly established learning communities consist of about twenty students who have fallen behind in their studies for various reasons. They meet every week to exchange ideas. They all have the same goal: to pick up and complete their degree programmes as soon as possible.
'It feels good to be part of a group again'
Bouke Bongertman, second-year Applied Psychology student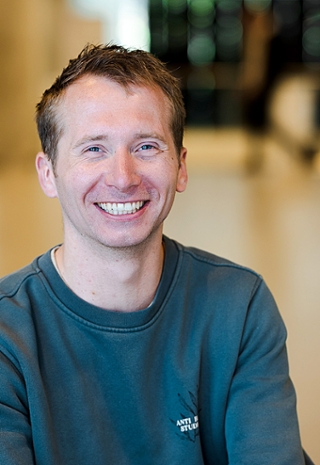 "Personal circumstances caused me to drop out for two years. Coronavirus played a big part in that. During my absence the curriculum of my degree programme changed, which meant that the courses I needed to re-sit the exam for are no longer taught. I found myself temporarily outside any class or group.
I managed to pick up my degree programme again in September 2021. I was used to having just one half-hour conversation with my supervisor every quarter. Although these were helpful and positive conversations, they weren't enough. Studying without a class or any supervision with classmates is hard; in fact it's a hopeless task. And that one live connection I had – the quarterly conversation – was cut off because the school closed due to coronavirus.
My academic adviser Kees tipped me off about the learning community. There was a kick-off in January, and we've been meeting every Friday morning since March. The group is a combination of students who – like me – are resitting exams for old courses, and students who are approaching graduation. We meet every week to see how we can achieve what we want to achieve.
I'm glad that the AUAS has set this up. It fels good to be part of a group again and to have a set time every week where we can ask questions and exchange ideas. I am hugely positive about the learning community. My studies are going well now and I expect to be able to graduate in two years' time.
The learning community is not standard, but maybe it should be. I think learning communities can be useful outside the coronavirus situation as well. For those students who take a different path and fall between the cracks for various reasons, such as illness, or death of a loved one. It is discouraging not to be able to consult or exchange ideas with others in those situations. You miss connecting with school and your fellow students. This initiative helps students to get back on track."