National Education Programme
Online open days
Sampling the atmosphere during an online open day
The AUAS is investing most of the funds from the National Education Programme to secure a smooth intake and transfer of its students. This involves a good intake and getting them well settled, as well as extra supervision to help them catch up in case of study delay.
Using funding from the National Education Programme, Mees Henneken was hired to join the central Communication Office's Study Choice Team for one year. He was asked to investigate how online study choice activities could be improved.
When choosing a study programme, getting a feel for the atmosphere on campus during an open day is essential. Obviously this is a challenge when the open day is online. Mees researched if and how the AUAS could to 'sample the atmosphere' during an online open day.
'Sampling the atmosphere is an important element of choosing where you want to study. Even online.'
Mees Henneken, young professional at the AUAS central communications department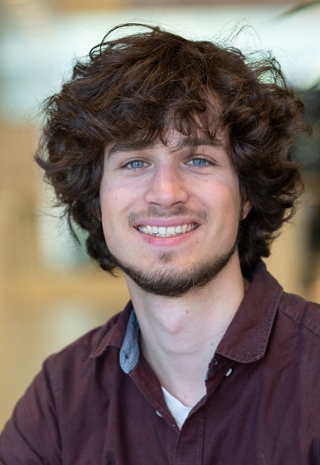 "Ideally, I would have liked to research this among prospective students. But that would have taken too much time. I only have one year, and I also want to be involved in the implementation of my recommendations after the research phase. Luckily I was able to base my research on an existing study by market research agency Motivaction. They had identified the wishes of prospective students while in the process of choosing a degree programme. I was able to build on that.
I checked with all the other higher education institutions in the Netherlands to see whether they offer digital sampling of the atmosphere. It turned out that some of them do. I also visited our own faculties to find out what they gather from prospective students in terms of what is lacking and what they need.
Then I talked to the higher education institutions that use tools to convey the atmosphere digitally. I asked about their experiences in the creation and use of these tools, both by staff and by students.
The results in brief: if the open day takes place online, prospective students still want to sample the atmosphere. And they want to do so as interactively as possible, because otherwise an online open day is just sitting and listening. And the impression they get shouldn't come across as 'manufactured'. Prospective students find a lot of the material they are shown to be promotional, as if it paints too positive a picture.
In the next stage, I provided some examples of tools from Motivaction's research to be evaluated by prospective students. The interactive map and the 360-degree environment received positive reactions. I formulated my recommendations based on the prospective students' wishes and their evaluations of specific tools, as well as the experiences of other higher education institutions.
I envision an interactive digital map with all AUAS locations. If you click on a location, you will be taken to the 360-degree environment of that location, where you can walk around as you would in Google Street View. This interactivity, the fact that you can decide where to 'walk' yourself, is important to prospective students and is what they felt was lacking most during online open days.
Several people are currently reviewing my recommendations. It remains to be seen whether they will be implemented exactly as I have described them."