Nikita
Testimonial
Nikita graduated from Sport Studies - track ISMB in 2018.
There are a lot of things I have learnt during my study that I implement every day. Entrepreneurship, marketing and networking are the most important ones.

Alumnus - Sport Studies - track ISMB
Where are you from?
'I grew up in Soest – the Netherlands. September last year I moved to Barcelona, to start a master's degree.'
What did you do after graduating?
'After my graduation I took some time to figure out what I wanted to do. I worked for the KNVB as a match manager, where I coordinated international youth matches. Unfortunately, when COVID hit, most matches were cancelled. I started an online course in Sportmarketing & Sponsorship to expand my knowledge and decided to look for a job. 6 months after graduating, I started to work for TrafficLeaders, an online marketing start-up.
I still had the idea of working in the football business in the back of my mind. I also wanted to return to Barcelona again, after doing an internship there back in 2017. This made me decide to move back to Barcelona in the summer of 2021. I started a master in Football Business at the Johan Cruyff Institute in partnership with FC Barcelona.'
What are you doing now?
'After I graduated from the master I started to work together with Ireneo Snel, also an alumni of Sportkunde. We studied together in Amsterdam and followed each other during our careers. Ireneo did an internship at BIWPA (in Barcelona) in the period after I did, and I started the master in Football Business a few months after he graduated.
While I was still studying, Ireneo had already asked me if I wanted to join and work with him. In June I decided to take the step and since then we have been working hard to build our own company: Valenze. At Valenze we help female athletes, with the focus on football players, to build their personal brand. Most of the players are aware of the importance and the value of their brands and that it can help them financially during and after their career, but don't know where to start. That is the process we guide them in.'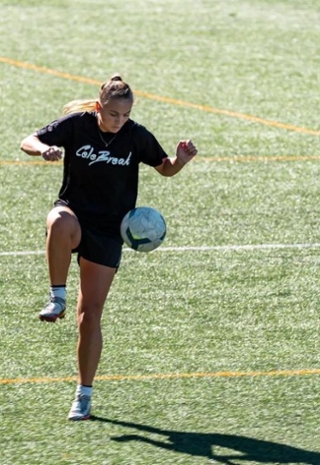 Which skills are you using on a daily basis?
'There are a lot of things I have learnt during my study that I implement every day. Entrepreneurship, marketing and networking are the most important ones. But I also still use the event management and organisational skills we've learnt!'
What are you the most proud of?
'I think I am most proud of the fact that I decided to move abroad and to leave everything behind. I left the security of my job and social life behind to 'start over'. This can be scary but you have to take the risk, or you will lose the chance. During the time here I realised that money is not everything. In The Netherlands money is a very important factor, but sometimes we forget what we really want or like to do. Accepting this and choosing what makes me happy and to follow my dream, has already been much more valuable to me!'
Where do you want to be in 5 years?
'I hope that we have helped many players with Valenze and that it has grown and developed into a profitable business. But I also still have a dream to work during big football tournaments like the European Championships or the World Cup.'
How can the alumni network support you?
'I have noticed how important your network is. The alumni network can help me to grow as a person and entrepreneur, to get in touch with people who might be interested in what I do, to connect and look for partnerships and to create new personal and business opportunities.'