Meet Professor of Practice Abdelhamid Idrissi
Our Professors of Practice each have their own area of expertise and each represents one of the '3 Ds' in our strategic plan at AUAS. With Abdelhamid Idrissi on board, AUAS now has a Professor of Practice with vast experience in the realm of diversity and inclusion. This page explains what he's doing at AUAS.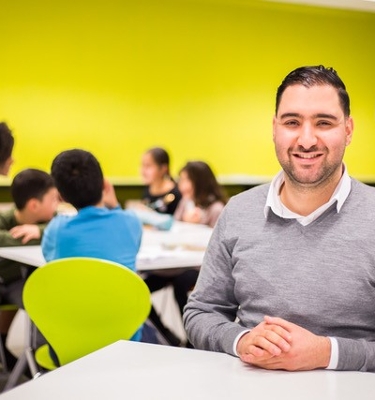 Abdelhamid Idrissi is at the heart of Amsterdam society. Through various neighbourhood projects, he works to combat inequality of opportunity and put other key issues on the map, engaging in dialogue about these topics throughout the Amsterdam Metropolitan Area. Abdelhamid Idrissi studied Architecture at AUAS and grew up in Amsterdam Nieuw-West, where he started the city's first Studiezaal (study hall for children and youth, information in Dutch), for which he received the Nieuw Amsterdam Awards Public Prize in 2021. Abdelhamid Idrissi was named 2018 'Amsterdammer of the Year' and is a member of the NPO initiative (Nationaal Onderwijs Programma) started by the Ministry of Education, Culture and Science. He's involved in the City's Knowledge Centre for Inequality of Opportunity as a council member, and is a renowned social entrepreneur with a broad vision for the city.
Abdelhamid Idrissi and the AUAS can mutually reinforce each other with regard to Idrissi's mission to allow talent to flourish and the AUAS's public responsibility to ensure the maximum development of the individual talents and qualities of all students and staff - regardless of background (ethnicity, gender, religion, disability, sexual and/or political affiliation) - in connection with the student experience and the city.
Our student population is diverse. This diversity reflects that of the Amsterdam metropolitan region and of the work environment where our students and graduates will soon come to work. It is natural for us to work and learn in a diverse and inclusive environment.
Diversity and inclusion are embedded and integrated into our entire education and research portfolio. Our education offers our students an inspiring learning environment for (learning) to understand and appreciate differences, but also the importance and added value of connection. As Professor of Practice, Abdelhamid will be an ambassador who draws on his expertise to bring inspiration to the AUAS in the area of diversity and inclusion.
Read a recent interview with Abdelhamid