Amsterdam School of International Business
Vision and mission
We envision a world where our students offer creative and socially responsible business solutions for the challenges of tomorrow.
We create graduates with the hands-on skills, knowledge, and global mindset to thrive in the world of international business.
The main ingredients of our vision and mission are: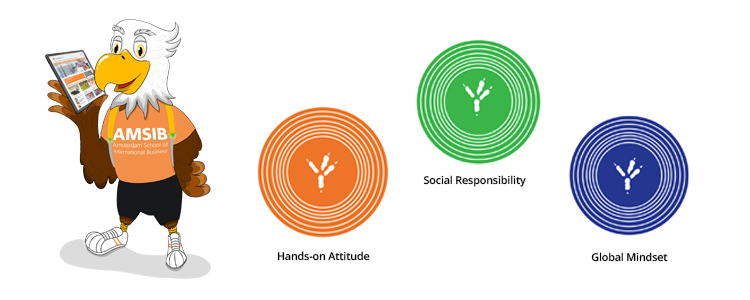 A global mindset
The global mindset we embrace derives from the history of Amsterdam, focusing on an appreciation of cultural diversity and international business orientation. At AMSIB we are operationalising the Global Mindset with the acronym GPS: Global Knowledge, Passion and Social Skills.
Global knowledge refers to international business awareness
Passion for diversity and finding your own passion
Social Skills, such as cross-cultural dexterity, networking and communication
A hands-on attitude
We excel at the application of a hands-on, learning-by-doing approach to business and management education and research. Students come to AMSIB to master the actual mechanics of global business. As we see it, international business requires a profound knowledge of business administration in a global context, along with the ability to effectively work with people from all kinds of cultural backgrounds. This can only be learned by taking an action, reflecting upon it, and acting again.
Social responsibility
As a business school, we need to foster a deep understanding of ethics with respect for norms and values across the globe, as well as the true belief that profitable, sustainable business models can and should be developed and executed. We include these issues in our curriculum, but want to address this critical area in a more systematic way.