Centre for Economic Transformation| CET
The Doughnut - next steps
Country-level development: reduce, reorient or rise
During the HvA Knowledge Parade, Kate Raworth gave a presentation on the donut economy. She provided the audience with a new practical addition to her economic model. What is the status of various countries with regard to the doughnut?
The Doughnut model is a now widely known economic model. But how do you take it from theory to practice? Practice continually demands deepening, e.g. focused on companies and other organsiations, and new information: where are we now?

Raworth presented her theory at the Knowledge Parade for those not yet familiar with it, while also providing valuable new insights. For instance, she showed at country level what action is needed: Reduce, Reorient, Rise.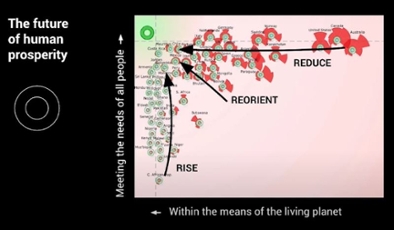 What kind of development is needed: Reduce, Reorient or Rise?
Countries in the Reduce zone should work on reducing consumption overshoot. Those countries in the Reorient phase should reorient their consumption towards the dougnut, and those in the Rise phase should develop consumption to meet peoples needs.
The slide Raworth showed shows at a glance the status of a country vis-à-vis the doughnut. It shows in a visually simple way how the world can become more balanced at the country level, within the limits of what our planet can handle and keeping in mind the needs of all people.
AUAS Knowledge Parade & Kate Raworth as a PoP
British economist Kate Raworth is one of the HvA's three Professors of Practice. The Knowledge Parade is an annual event for AUAS employees around knowledge in the broadest sense of the word: research, bringing knowledge from research back into education, innovative student projects, new insights regarding work and education, etcetera.