The Future of Work | conference
Towards a changing labour market
Event

We are dealing with a rapidly changing environment, where uncertainty has become a part of our daily lives. In today's globalized world and with the rapid pace of technology advancement the nature of jobs is also changing. Some routine and traditional jobs are being eliminated while new jobs are emerging as the result of technology advancement. This means that organizations need to re-think their HR policies and educational institutes must redesign their curricula to prepare the young generation for entering the market. How can we respond to these changes?
Programme
08:30-09:00 Registration and coffee
09:00-09:50 Opening plenary and keynote
09:50-11:10 Panel discussion
11:10-11:30 Coffee and snacks break
11:30-12:30 Parallel sessions 1
12:30-13:30 Parallel sessions 2
13:35-15:00 Closing, Lunch & Networking
Location
This conference shall be held in the North Auditorium at the Business Campus, Fraijlemaborg 133 / 1102 CV Amsterdam.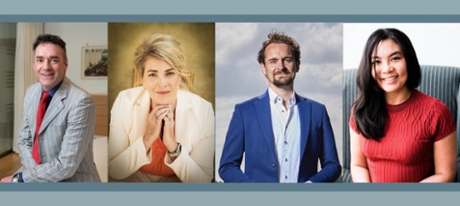 Keynote speakers
The conference will start with keynote speakers: Daniël van Middelkoop , lecturer Collaborative Professionals at the HvA, and Hafid Ballafkih , lecturer Labour and Human Capital in Transition at the HvA.
Panellists
This will be followed by a panel discussion with:

Parallel Sessions
Starting in the afternoon we will have numerous speakers presenting research findings and company perspectives. There will be two parallel sessions. Please sign-up for your parallel session in advance. You may choose one session per round.
Round 1: Research findings - 11:30 to 12:30 (see room numbers)
Room 0.008

Coworker Relationships in a Hybrid Workplace

Presenter: Amie van Woudenberg , Researcher Amsterdam University of Applied Sciences

Abstract: Work relationships are essential to a successful organization. We are currently undergoing a shift to hybrid work. This research examines the impact of hybrid work on workplace relationships. This study uses single case study methodology. Preliminary findings show that the employees continued their task-oriented interactions online and in person. However, the relationship-oriented interactions took place predominately at the office. Hybrid work was found to have both positive and negative consequences for workplace relationships. The positive consequences include relational resilience and increased chances for connection. The negative consequences include siloed relationships, relational deterioration and difficulty building new relationships.Tension between productivity and workplace relationships was observable.


How organizations, and people managers in particular, prepare for the future of work

Abstract: Many organizations juggle people challenges such as workforce shortages, mental health problems, lack of skills, advanced automation, flexible contracts, and shorter tenures.  In some cases, the problems are even reaching a level at which business continuation is at risk.

 Julie's research programme aims to reveal how organizations, and people managers in particular, prepare for the future of work. It focuses on what cognitions and practices they use to help organizations evolve over time in an uncertain future of work. In a series of exploratory studies, the focus is on actual perspectives and practices of people managers in organizations. How do they envision and prepare for the future of work? How do they collaborate with stakeholders to ensure this? What is their perspective of time?

Room 0.012

Higher Education for the Era of AI Business students' perceptions of Dutch higher educational institutions preparing them for artficial intelligence work environments

Presenters: Hanna Rahma Abdelwahab and Cha-Hsuan Liu

Abstract: Artificial Intelligence (AI) technologies are transforming our lives but the effect on higher education remains an important discussion among industry and education experts. The widespread concern is, "Are students prepared to work in an AI work environment?" "Do universities adequately prepare students to work with and alongside AI?" This research explores business students' perceptions of their higher educational institutions (HEIs) in the Netherlands in preparing them for AI work environments. A questionnaire based explorative survey was completed by 95 students from 27 Dutch HEIs. The result shows that the majority of students perceive their jobs becoming redundant due to developments in AI. While students agree that AI skills should be taught in their HEIs, they also consider that the institutions have not sufficiently provided important AI skills such as ethical/cyber-security awareness, innovation, and digital/ICT literacy. They reflect that their HEIs are not equipped optimally in terms of teaching facilities and programmes/curricula to prepare them for AI work environments. It implied an urgency for HEIs to modify their programmes/curricula to infuse the teaching of relevant AI skills that are needed in an AI work environment. HEIs should collaborate and partner with AI companies, technical HEIs, and government agencies to provide personalised, AI practical learning experiences to both students and academics. Our upcoming research agenda is to conduct relevant research that delves into AI and higher education. Our proposed topics include but are not limited to the ethical implications of AI or AI's impact on Pedagogy, Learning Outcomes, and Assessments. We welcome conference participants to join discussions on emerging matters.

Outside-Outsiders: Exploring career development and the acquisition of career capital for SIEs in a hybrid workplace

Presenter: Dr. Riana Schreuders

Abstract: Self-Initiated expatriates often hold an 'outsider-status' in organizations which limits their ability to access critical social networks for acquiring career capital in the host country. Since the Covid-19 pandemic many organizations have decided to shift to hybrid working where much of the work is being conducted online from home. As a result, online tools is increasingly being used as part of the onboarding of new employees which can result in a high degree of impersonality in the onboarding process. SIEs are particularly likely to feel isolated from internal networks, socialization, acculturation and organizational adjustment, with consequent negative effects on the acquisition of career capital and career development. This paper explores the onboarding and acquisition of career capital for SIEs in the context of a hybrid working environment. Firstly, a general overview of the unique position of SIE careers are presented, followed by a theoretical overview of successful online onboarding strategies, followed by suggestions for practice and recommendations for future research.

Room: Creative Business Lab 4.096

The reaction of coworking spaces to the COVID19 pandemic. A dynamic capabilities perspective

Presenters/Authors: Victor Cabral & Willem van Winden

Abstract: The COVID-19 pandemic has led to many firms reassessing how to deal with their communities. In this study, we focus on a coworking space and examine how the management staff and its coworking community reacted to the pandemic. The uniqueness of coworking spaces is that the community is both the paying customer and it is an integral part of the coworking value proposition. For this paper, a case study in Amsterdam was analyzed and the symbiotic relationship between the coworking space and one of its key resources (the community) was examined. We build on dynamic capabilities theory to identify the processes of how a firm and its community maneuver through the pandemic. We propose that in vibrant times, firms and communities should work in close alignment in order to sense, seize, and transform resources and opportunities.

The Future of jobs: A roadmap for the future of a more interdisciplinary Business education

Presenters/Authors: E. Ordeix, F. Longo, S. Ajour El Zein, N. Arbonés Aran, S.Petkova

Abstract: Interdisciplinarity is changing the way scholars in business schools approach business research and education. In fact, one can already see that embracing interdisciplinarity has been (again) a hot topic in the literature on businesses and innovation in the last decade. The challenge remains: how to build a (higher) educational infrastructure that can actually train for a present and a future that is not always predictable? How can we work together with students and partners from all over the world in order to get better prepared for the real jobs of the future.

Room 4.125

Work-life balance and remote working in the pandemic and beyond: The lived experiences of university academics in the Netherlands and UK

Presenter/Authors: Abdul Rauf, Shohreh Parham and Conor Sheehan

Abstract: Poor work-life balance has been linked to negative outcomes such as increased stress, anxiety, depression, and a perceived reduction in the overall quality of life. At an institutional level, these may include lowered employee commitment and decreased productivity at work. The advent of COVID-19 has necessitated fundamental alterations to work experience and the ways in which WLB may be perceived.

The employability skills and abilities of international graduates from universities of applied sciences in the Netherlands: Investigating underlying factors and urgent needs

Presenter: Sophia Faraji

Abstract: The aspect of employability support has the greatest impact on the status of a higher education in assisting of the international graduates in the Netherlands. Accordingly, the opportunities provided by higher education institutions to prepare and facilitate international students in their future professional careers play a crucial role. In the framework of employability, the aspirations of the graduates contribute to their awareness of their readiness to obtain a work placement. Many graduates anticipate a distinctive transfer to the workplace market. This study aims to investigate the readiness of international graduates for the furure of work and the role university of applied sciences play in this regard. The study uses qualitative research methods.
Round 2: Company perspectives - 12:30 to 13:30 (see room numbers)
Room 0.008

Powered by SAP

Summary: Recognizing Future of Work as a strategic imperative, SAP established a dedicated, cross-functional Future of Work team to design and orchestrate SAP's holistic agenda for the Future of Work. Future of Work at SAP is a cultural transformation towards a more agile and resilient organization, contributing to the sustainable success of SAP and its customers. Flex work and hybrid work, agile methods and new work, holistic health management, workforce planning, and data insights are important key elements for making the Future of Work a reality – powered by our digital Future of Work technology.

In this session we will discuss SAP's ongoing journey into the Future of Work and we will inform the audience regarding the various viewpoints on Future of Work from Technology, Application and Psychology.

Summary: IDEXX is a global leader helping pets lead longer, fuller lives by offering high quality diagnostic and software products and services to veterinarian practices. Our innovations also help ensure the safety of milk and water around the world and maintain the health and well-being of livestock, poultry, and horses. We are present in 175 Countries, with more than 10.300 employees; our presence on the ground is through Corporate Offices, Manufacturing Sites, Distribution Centers and Reference Laboratories. IDEXX has named "GoForward" the post pandemic phase during which we have been reflecting on new ways of working and on how employees could effectively embrace them. During the workshop, I will explain how IDEXX has built its GoForward approach on two of the Company guiding principles: Innovation and Collaboration; any decision taken in this context has been assessed considering the impact it could have on these two strategic differentiators. More specifically: how did Corporate lead communication? Were approach and decisions adjusted also to reflect local needs and requirements? During which time frame did IDEXX operate? Who was and still is responsible of the execution of GoForward? Where are we now and how effective we believe IDEXX GoForward approach is in relation to the new Global macroeconomic challenges?

Room 0.012

Co-Piloting the Future of Work: How Companies Like IKEA and Nike are Revolutionizing the Workplace

Presenter: Marco van der Werf (Bit Academy)

Summary: Discover the groundbreaking developments transforming the future of work at our upcoming workshop! We'll explore how leading companies like IKEA and Nike are employing cutting-edge personal "co-pilots" to help individuals enhance their work performance and redefine the workplace experience. Designed for business leaders, academia, and students, this interactive session will provide valuable insights into the rapidly evolving landscape of work and technology.

During the workshop, we'll delve into the concept of personal "co-pilots" and their potential to revolutionize the way we work. By harnessing the power of AI and advanced analytics, these digital assistants are poised to boost productivity, streamline decision-making, and foster innovation. We'll examine real-life examples from IKEA and Nike, showcasing how these global brands are leveraging personalized AI tools to empower employees and drive their businesses forward.

Building and developing critical workforce capabilities - Discovering what are some of the most useful skills that you need to succeed in today and tomorrow world

Presenter: Nina Maldonaldo, AkzoNoble

Summary: This workshop focuses on identifying and developing critical workforce capabilities that are necessary for success in today's rapidly changing world. Participants will discover the most useful skills needed to thrive in the current and future job market. The workshop will also provide strategies for building and developing these skills to enhance career prospects and increase job satisfaction.

Room: Creative Business Lab 4.096

Nurturing Staff Wellbeing and Engagement: Lessons from Oxfam Novib

Presenter: Katja Brenninkmeijer, Manager HR, People and Culture Unit

Summary:  This workshop will showcase Oxfam Novib's journey towards promoting staff wellbeing and engagement. The session will delve into the measures taken by the organization to ensure a safe, healthy, and engaging work environment. The workshop will highlight the importance of employee surveys and how they can be used to identify factors that contribute to a positive work environment. Participants will learn about the outcome of Oxfam Novib's employee surveys and the subsequent actions taken to address issues related to mental health and engagement. Additionally, the workshop will explore how the organization adapted to the hybrid working model while promoting staff wellbeing and engagement. Participants will leave with actionable insights and strategies to implement in their own organizations to promote employee wellbeing and engagement.

Inclusion, Diversity & Equity in the workplace

Presenter: Rumeysa Unal, KPMG

Summary: Within this workshop, you will learn about what Inclusion, Diversity & Equity within the workplace means, and why it is important for the future of work. During the latest years, this topic has become more visible, both in society as in companies. Organizations are trying to actively work on IDE, which is seen as a competitive advantage. But what does it mean to be diverse and inclusive? Why is this important? What is the business case and how are organizations designing their policies? I will illustrate this by a short presentation, as well as explaining about KPMG policy on diversity & inclusion. Afterwards, there will be space and time to ask questions

Room 4.125

Work without jobs

Presenter: Mario Brazzoli, ING

Summary: In 2022, Ravin Jesuthasan and John Boudreau published a book called "Work Without Jobs" which is a Wall Street Journal bestseller on how to reboot your organisation's work operating system. In the presentation I propose to speak the audience through some of the principles and practical implications of the changing design of work by sharing insights from industry, and recent publications.

Jesuthasan and Boudreau make use of a metaphor to describe their work as ice cubes. In which work is traditionally understood as a "job" with specific job requirements and "jobholders" with specific sets of skills. They explain that this concept of work, like ice cubes, is melting and suggest that the impact of the recent COVID-19 pandemic on work has accelerated the melting. One can imagine a tray of ice cubes melting, turning into water. Symbolizing how work, and traditional "jobs" are merging and becoming more fluid and so too requirements on the "jobholder". They take the metaphor even further, proposing that the melted ice cubes could be reformed into different shapes and sizes to improve how work is delivered, in a concept described as fluid work that can be deconstructed and reinvented.

An example of this is how the shift from traditional hierarchies to free-flowing, agile organizations. These examples speak not only to how leaders need to reinvent the way they think of work, but also how we, as professionals, need to re-think the practices that support them.

The future of work & AI-People want to do meaningful work

Presenter: Shanna Bosmans, Chief Hybrid Officer, Microsoft

Summary: The future of work is being shaped by advances in AI and automation, with people seeking more meaningful and fulfilling work. The "copilot" concept refers to AI systems working alongside humans to enhance their capabilities and provide a more personalized and engaging work experience. This approach to work can create opportunities for greater job satisfaction and improved productivity, while also raising important ethical and social considerations.