Talented students in Digital Design sharing knowledge in Italy
25 Apr 2018 16:50 | Faculty of Digital Media and Creative Industries

A team of talented students of the Master of Science in Digital Design will present their work in Italy. The students of the Amsterdam University of Applied Sciences won a Grassroots grant for their 'Introbots' project in February, and wrote and submitted a scientific paper to NordiCHI, a top European conference.

Introbots have been created by the students of the Master's in Digital Design to reflect on introversion and its role in design education. Today, an extroverted character is a plus: people are asked to speak up in class, to discuss, to feel comfortable in front of large groups of people. Does this mean that introverts are at a disadvantage? How does introversion feel like? The Introbots project was born as an exploration and commentary on being an introvert. Can we understand something more about introversion by making a robot and playing with it? And can we use it to explain that experience to others?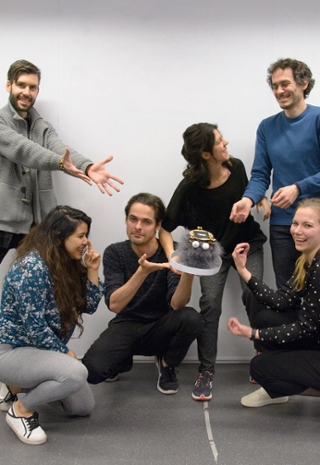 Adriaan Oudemans, Anandita Punj, Beatriz Ibeas, Carmen Scherbaum, Edwin D'Mello, Lena Heinrich, and Gabriela Prattingerová worked with lecturers Luis Rodil-Fernández and Marcus Graf to produce the Introbots (originally named Shybots). Further research has been carried out with Gabriele Ferri and Nicolai Hansen.
Valerio Perna, visiting PhD student from the Sapienza University of Rome, kindly secured the possibility for some of the students to travel to Italy and not only to present their work but also to conduct a workshop. The students will travel to Sicily at the end of May, using their Grassroots grant.
Hacking City #9
They will present themselves during Hacking City #9 on the 1st of June. This event will take place at SOU - School of Architecture for Children, which is part of FARM Cultural Park in Favara, Agrigento, Italy.
The hospitality is kindly provided by SOU. Some lecturers from the Master's in Digital Design, as well as visiting PhD student Valerio Perna, will accompany the students to document this nice fieldtrip.
But there's more! The students and lecturers are also finishing a scientific paper about the project, and are targeting the ACM NordiCHI conference. With the extra data that will be collect in Italy, the team can write a follow-up paper for ACM CHI.
For more information about Hacking City #9, see: https://www.facebook.com/events/216398352448959/