Using cow dung to build houses: these students believe in it
Students present idea during Dutch Design Week in Eindhoven
14 Oct 2021 09:54 | Faculty of Digital Media and Creative Industries

Cow dung is a promising material with which houses can be built in the future, especially in times of climate change. That is the firm belief of three students of the Amsterdam University of Applied Sciences (AUAS) Makers Lab minor, who are using a 3D printer to convert cow manure into building material. They will demonstrate the possibilities during Dutch Design Week, which takes place from 16 to 24 October in Eindhoven.

The Netherlands has a nitrogen problem, leading to the loss of species of trees and plants, as well as birds and insects.

Most of this nitrogen comes from manure; some 53 billion kilograms of cow manure are evaporating. Students Miruna Vlad (AMFI), Doris Hondtong (Natural and Social Sciences, University of Amsterdam) and Maxim Meijer (Product Design) followed the AUAS Makers Lab minor and decided tackle this nitrogen and manure problem as designers. The idea they came up with is: what if, instead of viewing cow dung as something dirty, we view it as material that can be used to make something new and useful, such as houses?
Enthusiastic farmers
Over the past few months, the students have been collecting cow manure by bike from a biodynamic farm close to the Amsterdam University of Applied Sciences, and from Hardebol natural farm in Landsmeer. They then spent months experimenting with a 3D printer to make the manure suitable as a building material. Several companies that already use the material in construction panels are following the developments with interest.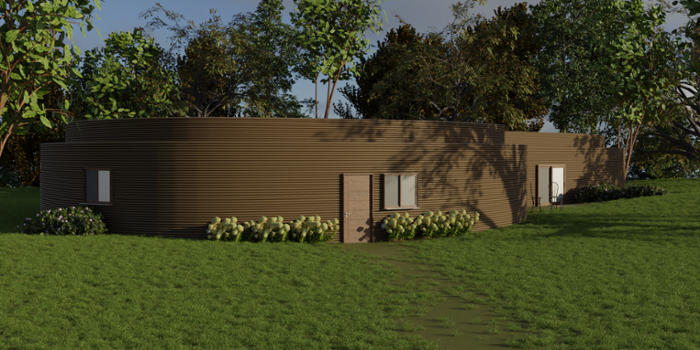 Special 3D-printer built for Dutch Design Week
Previously, the students used a 3D printer to make panels of 10 by 10 centimetres, but they are now printing large panels that are half a metre long. Maxim built this larger 3D printer himself for the demonstration at the Dutch Design Week. "We're going to make the recipe together, and see what the printer can handle."
The students now have a number of construction panels that are well worth looking at, which clearly demonstrate that cow manure can produce a valuable end product. With this, they want to spark enthusiasm among the public in Eindhoven. "It's the combination of shiny new 3D printer with an earthy material like cow dung that creates interest," Doris thinks.
New neighbourhood from cow manure
To be clear: the students do not expect new residential neighbourhoods to be constructed from cow manure in the near future. At this stage, it is still a design project, showing what is possible. "It takes time to develop building materials and put them on the market, and there are also a lot of regulations to comply with," says Doris. "But we really are convinced that this material has tremendous potential. All three of us believe in this."
Water resistant
But does it make sense to build cow dung houses now that it is raining more often due to climate change? Absolutely, says Doris: "Cow dung has a special property. Unlike other natural residual materials, it is hydrophobic, in other words, water resistant. In India, people use cow dung for the outer layer of their houses to protect them from the rain."
From stinky material to the new gold
What is it like to work with cow dung? "After the summer holiday, it took some getting used to," says Doris (Natural and Social Sciences alumna). "At the time, we thought: this really stinks. But after half an hour, it's not so bad, especially once you have the final product in your hands; then you truly understand the value of the material."
New design techniques: fungi, algae, onion skins
In the Makers Lab - Critical Making Research through Design minor students learn to design using new, future-proof techniques. They learn to design using renewable materials, such as vegetables, fruit, mushrooms, grass and waste. In addition to new techniques, they also look at old methods, which we are going to need urgently, such as pigments from natural materials. Students also work with 'biotechnology' (living cultures, such as bacteria and fungi).
Senior lecturer-researcher Loes Bogers: "We are quite addicted to plastics, and to new raw materials, which are mined or extracted specifically for our products. We also place high demands on our products. Take colour, for example: it must be bright, and must not fade or become washed out. This means that very chemical processes are used for the pigments in clothes and other items.

We now know that this way of producing and consuming is not sustainable. Therefore, things will ultimately be made from renewable materials. And for pigments, there are all sorts of natural dyes available that require less chemical processing. Some of nature's most useful dyes come from what we consider to be food waste:
Onion skins can be used to dye things golden yellow and orange. Red onions produce khaki colours. And avocado peels and stones can be used to dye things a beautiful pink. Techniques like these can be used again."
For more information, please contact lecturer-researcher Loes Bogers (Makers Lab minor, Visual Methodologies research group) at l.bogers@hva.nl / 06-211 582 45.