Centre for Applied Research of the Faculty on Digital Media & Creative Industries
RISO-printer
Intense colors, sustainable technology
RISO printing is a kind of screen printing or stencil printing, only with a machine. Just like screen printing or stencil printing, you need a print run per color. Whatever color you want to print, your originals must always be black (or a gradation of black). The machine can only read black, and only burns the black shapes in the master. Only where the forms are burned in the master the ink can pass through.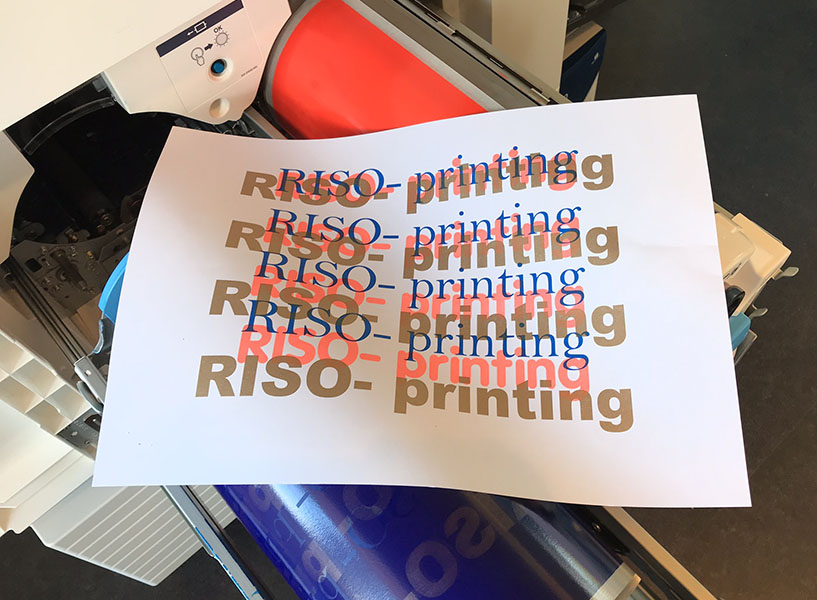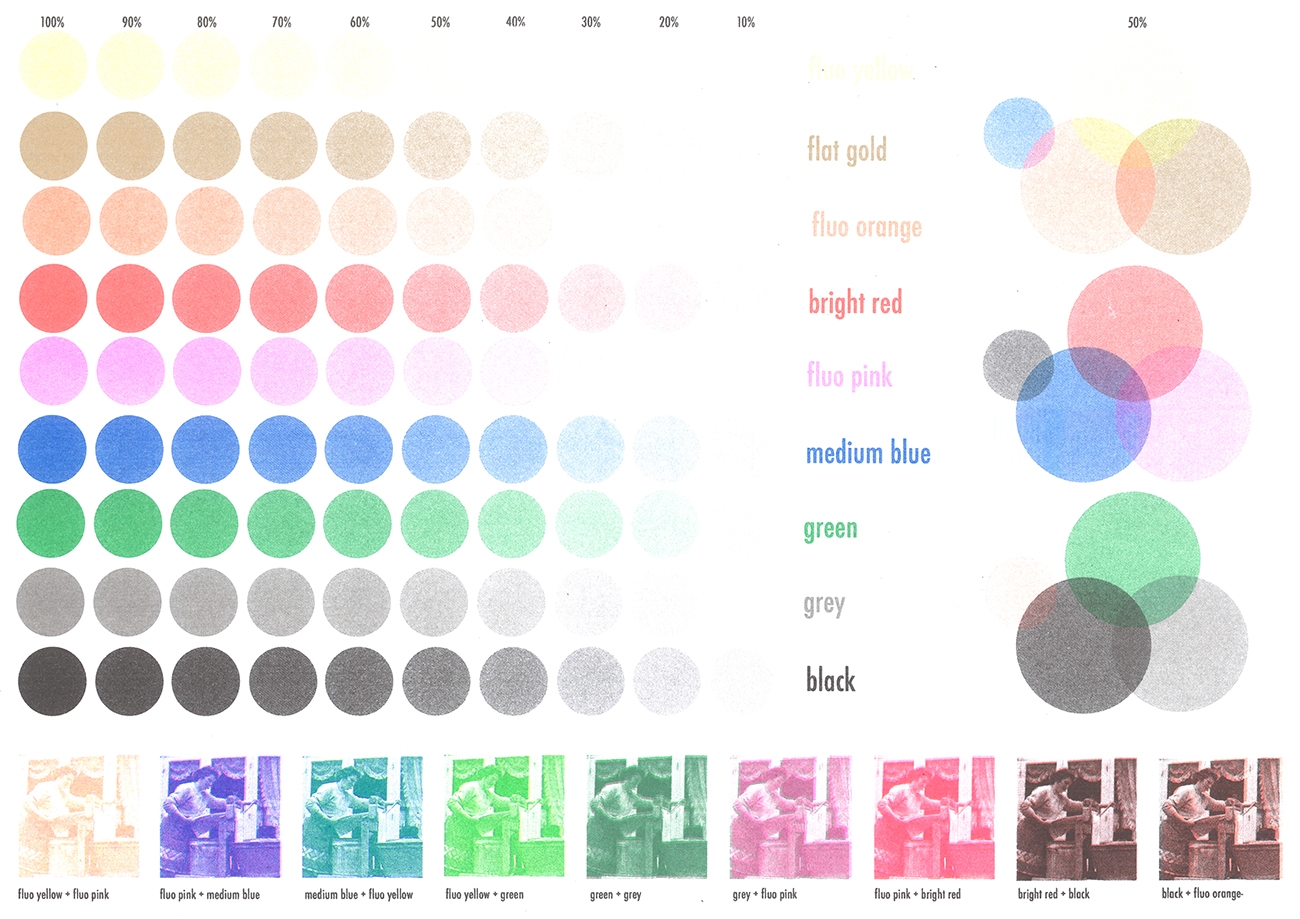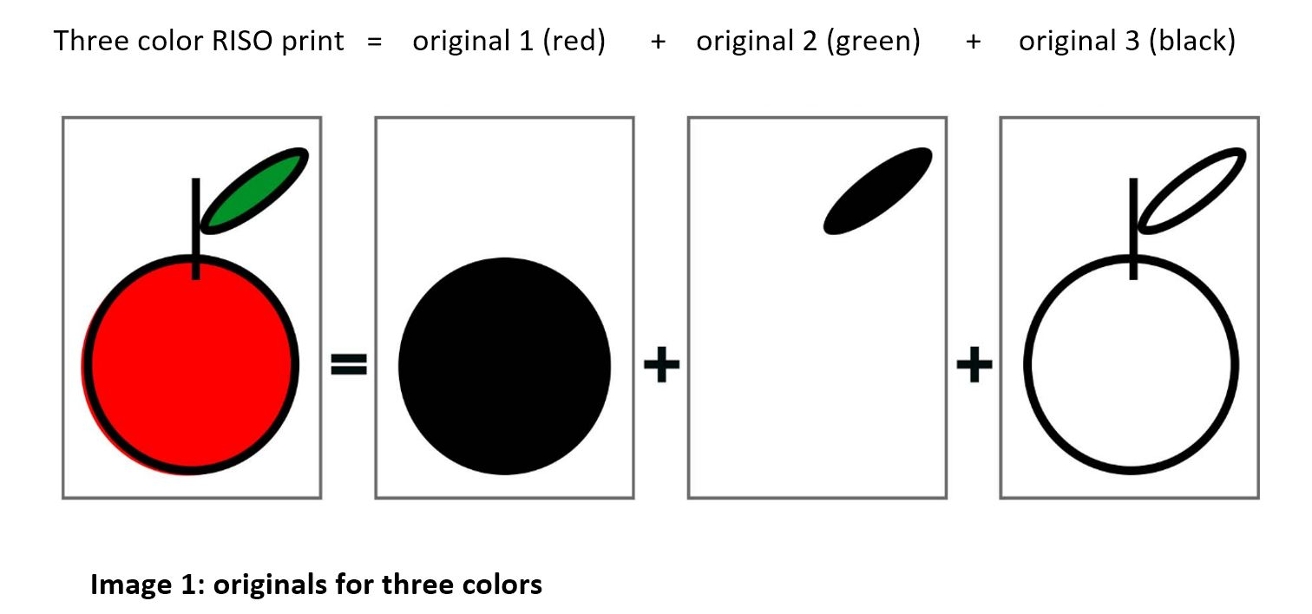 Make sure your originals are black (or gradations of black). Does your original consist of large areas of color? Make sure those color areas aren't 100% black, but a maximum of 96%. You won't see the 4% less, but you will prevent your printed sheets from sticking to the color drums in the machine this way.
At the Makers Lab twelve colors of RISO ink are available: fluorescent yellow, fluorescent pink, fluorescent orange, gold, red, blue, green, teal, gray, brown, black and white.
Please think carefully in advance about the amount of colors you want to use. RISO ink is made of soy or rice oil and must dry between the different print runs. The RISO printer in the Makers Lab can print two colors simultaneously in one print run. For each additional color, the paper has to go through the machine again, which increases the risk of imperfections. If you want 100% accurate prints, it's better to choose a different technique.
Because RISO ink is semi-transparent, you can create new colors by printing surfaces (partly) on top of each other. Moreover, you can vary in color tones by making surfaces not 100% black, but for example 50% black, so that the riso color also becomes 50% lighter.
You can bring your originals on paper and scan them from the glass plate of the RISO printer, or on a USB stick as a PDF and send them to the machine with the PC standing next to the RISO printer.
Bring your own paper. This must be uncoated paper between (minimum) 70 and (maximum) 240 grams. Uncoated paper is sold at Vlieger Papier and Papier Hier (also see our Materials page).
Would you like to RISO print? Then make a reservation using the online reservation system. Create an account with your HvA email address. (not your login name)
One of the employees will instruct you how to operate the RISO-printer. This will take about 20 minutes.
Quantity

Price

1 color /master including 25 prints
Every 20 prints extra

€ 0,75
€ 0,25
Paper not included! Please bring your own paper!
| | |
| --- | --- |
| Maximum print surface | 29,1 cm × 41,3 cm |
| Paper weight | 70 tot 240 gram |
| Standaard paper dimensions | B5, A4, B4, A3 |
| Custom paper dimensions | 10 cm × 14,8 cm tot 32 cm × 43,2 cm |
| Printer resolution | 600 dpi × 600 dpi |
| Scanner resolution | 600 dpi × 600 dpi |
| Maximum scan size | 29,7 cm × 43,2 cm |
| | |
| --- | --- |
| Fluorescent yellow | |
| Fluorescent pink | |
| Fluorescent orange | |
| Gold | |
| Red | |
| Blue | |
| Green | |
| Gray | |
| Teal | |
| Brown | |
| Black | |
| White | |