Centre for Applied Research of the Faculty on Digital Media & Creative Industries
UV-printer
Using ultraviolet light to cure ink!
UV printers can be used to print every colour in the rainbow on nearly every type of material, from a board game layout on cardboard to an image on leather or a photo on canvas.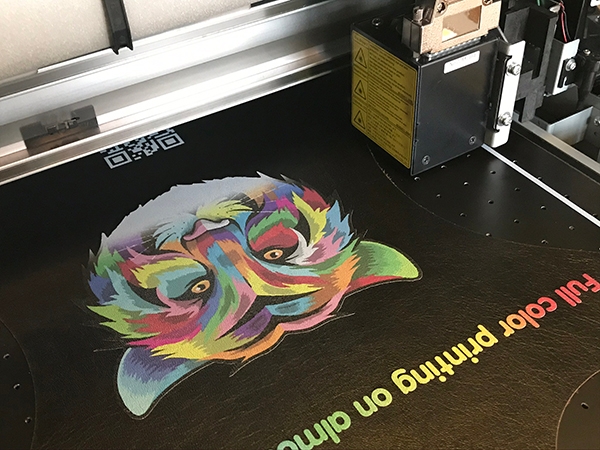 What does UV printing entail?
Flatbed UV printing is a new type of printing technique that does not involve inks containing solvents. A flatbed UV printer can be used to print images on nearly every material in high quality and a wide range of colours. The printer uses a special type of ink that cures into what resembles a thin layer of plastic when exposed to ultraviolet (UV) light. One of its major advantages is that fewer volatile materials are released into the environment, since no solvents evaporate like they would with conventional inks.
Another advantage is the option of also printing in white. This means that a material can first be made white, prior to printing it in another colour. Without the white base coat, colours would appear too dark due to the dark background colour.
Full colour isn't enough?
In addition to full-colour printing and applying a white base coat, the UV printer also has the option of applying a varnish layer to create a slightly glossy look.
Which materials can be printed on?
Nearly all materials can be printed on with a UV printer, including plastics, glass, ceramics, leather, metal, cardboard and wood. However, the material must be flat. UV printing is sometimes also possible on cloth, if it is smooth enough. Although the result is not quite as good as on a completely smooth surface, it can be surprisingly attractive.
Note that printing on a black base surface with an open structure, such as black cardboard or black cotton cloth, will yield a disappointing result.
In order to print, you need an image. This can be in one of the following file formats:
Would you like to UV-print? Then make a reservation using the online reservation system. Create an account with your HvA email address. (not your login name)
One of the employees will instruct you how to operate the UV printer. This will take about 20 minutes.
The prices listed below are for each layer. Minimum price per layer = €0.57 Example: an A4 print with a white base coat and colour costs 2x €2.25, for a total of €4.50.
| | | | |
| --- | --- | --- | --- |
| Format | Size | Surface | Price per layer |
| A2 | 42 x 59,4 cm | 2495 cm2 | € 9,00 |
| A3 | 29,7 x 42 cm | 1247 cm2 | € 4,50 |
| A4 | 21 x 29,7 cm | 624 cm2 | € 2,25 |
| A5 | 14,8 x 21 cm | 311 cm2 | € 1,13 |
| A6 | 10,5 x 14,8 cm | 155 cm2 | € 0,57 |
Maximum print dimensions:
Width 47.3 cm
Length 59.4 cm
Maximum dimensions and weight of medium:
Width: 48.3 cm
Length: 59.4 cm
Height: 15 cm
Weight: 6 kg