Irene Maldini wins the AUAS Research Award
Irene Maldini, senior researcher at the Fashion Research & Technology research group of the Faculty of Digital Media & Creative Industry wins the Amsterdam University of Applied Sciences Research Award 2020
2 Sep 2020 07:32

For her PhD, Irene investigated the relationship between design and the size of clothing production, individualisation and the wardrobe of consumers. She discovered that purchasing a sustainable item of clothing does not encourage consumers to buy less clothing.

"If you have a special sofa in your living room, you are not likely to buy a new one. In that case, sustainability leads to a reduction in the demand for new products. But in the wardrobe studies I conducted for my PhD research, I noticed that this is not the case with clothing. Buying and keeping a special dress does not prevent the consumer from buying another one. We have a lot of clothes and we hardly buy new clothes on the basis of replacement. That is a big difference with other product categories. "
The Jury Report
The jury, led by Rector Geleyn Meijer, was unanimously positive about the broader social urgency of Irene's research "Can design confront consumerism?". The multidisciplinarity of the research and the thorough and well-developed approach were also praised. Frank Kresin (Dean HvA Faculty of DMCI): "It is evident that overproduction, pollution and working conditions in the fashion industry must change in a positive sense. The industry is working hard on this. With her excellent research, Irene provides us with insights into the changes that we as consumers need to go through. At least as important or perhaps more important. I would like to congratulate Irene and her team on this well deserved prize."
About the AUAS Research Awards
With the annual 'Research of the Year' award, the AUAS wants to celebrate and reward an exemplary research project of the A. The prize is aimed at a research project at AUAS that is carried out from a faculty research program, knowledge center and / or Center of Expertise (CoE). The project is carried out by a research team. A jury prize and an audience prize are awarded annually.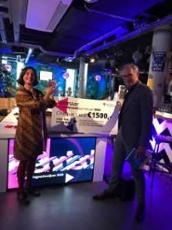 Irene Maldini is a senio researcher at the research group Fashion & Technology at the Amsterdam University of Applied Science.
Study
Irene graduated in 2001 as Product Designer at the EUCD / UdelaR (Uruguay) and in 2012 at the MA Design Cultures (cum laude) at the VU University Amsterdam. In November 2019 she successfully defended her multidisciplinary thesis entitled: "Can design confront consumerism? A critical study of clothing volumes, personalization and the wardrobe "under the supervision of Prof. Hein Daanen (VU Amsterdam), Prof. Pieter Jan Stappers (TU Delft) and Dr Javier Gimeno-Martinez (VU Amsterdam).
Previous activities
In 2012/2013 Irene worked for VU University Amsterdam as a researcher at Waag Society, where she conducted an ethnography of digital makers at FabLab Amsterdam and considered the environmental consequences of digital DIY. Before moving to the Netherlands, Irene was an assistant professor at the EUCD / UdelaR in Uruguay, where she was a teaching team for the final year of their studies for bachelor students' design projects. She also worked as a product designer for 15 years, in design studios such as TOC and Design Inverso (in Uruguay and Brazil) and developed her own (conceptual) design projects.