Centre for Applied Research of the Faculty on Digital Media & Creative Industries
FIELDLAB ● 3D KNIT
Personalized knitwear has been made manually from a single thread by loving hands for thousands of years. The advent of the knitting machine in the 16th century accelerated the knitting process, but changed the production principle into a cut & sew process. The digital transformation of the fashion industry has created new opportunities, but what would that look like physically? In this Fieldlab, a Shima Seiki Whole Garment Knit machine is used to make products that come out of the machine in full 3D.
This innovative technology not only results in garment production that learns from craft-intensive skills, but also opens the doors to new applications such as tailoring, customization and on-demand production; making the manufacturing process more sustainable, smaller-scale and more local. This technological evolution requires the development of new design, system and programming knowledge.

The 3D Knitwear Fieldlab is exploring these new possibilities through four projects that will focus on areas such as circularity, healthcare, athletics and aesthetics. We look at data and IT systems that are necessary to analyze the person wearing the sweater. We want to create examples that show the possibilities, challenges and opportunities of this innovative knitting technology for product development in the creative industry and for application to the body.
The fieldlab 3d knit is a collaboration between AMFI and the research group Fashion Research & Technology (FR&T).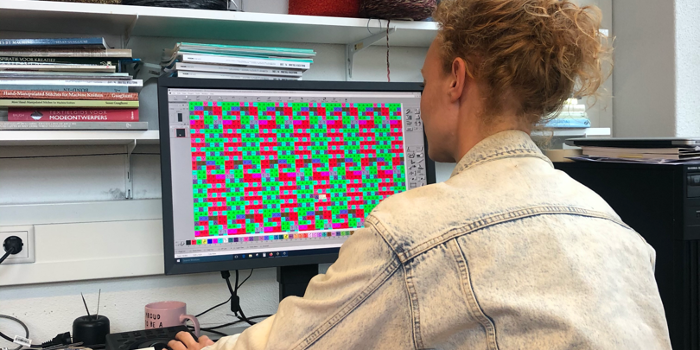 Partners