Fraijlemaborg (FMB)
Opening hours
Mon.-Thurs
07:30 – 22:30*
Fri.
07:30 – 19:00
Sat.
09:00 – 17:30*

Sun.

CLOSED

* During evening and on Saturday only open for parttime students Amsib and parttime Academy

Opening hours service point

Reception ground floor

Service desk

Handing out
Diploma

Mon.
08:00 – 18:00
08:30 – 17:30
Tue.
08:00 – 20:00
08:30 – 19:30
Wed.
08:00 – 18:00
08:30 – 17:30
Thurs.
08:00 – 20:00
08:30 – 19:30
Fri.
08.00 - 17.00
08:30 – 16:30
Sat.
09:30 – 14:00
10:00 – 13:30
Sun.
CLOSED
Building accessibility
There is a door next to the revolving doors of the FMB main entrance. Wheelchair users can use the intercom to ask for assistance. For more information, see Accessibility of AUAS buildings.
Parking spaces for wheelchair users
A number of parking spaces are reserved for wheelchair users in the parking garage underneath the building. The building can be accessed by lift directly from the parking garage. For more information, see Parking.
Route inside building
Find route inside Fraijlemaborg .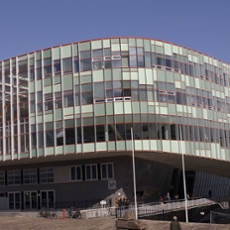 Fraijlemaborg (FMB)
Fraijlemaborg 133
1102 CV Amsterdam
020 523 6311