More engagement in priority neighbourhoods since coronavirus
"Residents more engaged than ever, invest in this!"
4 Sep 2020 13:15 | Urban Vitality

In the Netherlands, the impact of coronavirus is being felt even harder in priority neighbourhoods than in other areas. At the same time, many positive new initiatives, such as free meals and grocery services, have emerged here recently. Lea den Broeder, professor of Health and Environment at the Amsterdam University of Applied Sciences (AUAS) and the National Institute for Public Health and the Environment (RIVM), and associate professor of Health and Society Annemarie Wagemakers of Wageningen University & Research (WUR) are in favour of investing in this now, before these initiatives disappear.

In priority neighbourhoods like Amsterdam Nieuw-West and Utrecht Overvecht, residents are facing a double blow from coronavirus. Not only do they have a greater risk of becoming ill, they have also been hit harder financially. Neighbourhood organisations saw countless families with empty fridges and people who lost their jobs during the 'lockdown'.

That is why it was great to see dozens of initiatives being set up in these neighbourhoods by residents who help their neighbours. Lea den Broeder and Annemarie Wagemakers collected numerous examples and were amazed. Their message: all kinds of things are happening now that are vital to the health of residents in these neighbourhoods. Invest in this before it's too late, because these initiatives will continue to be urgently needed for the community.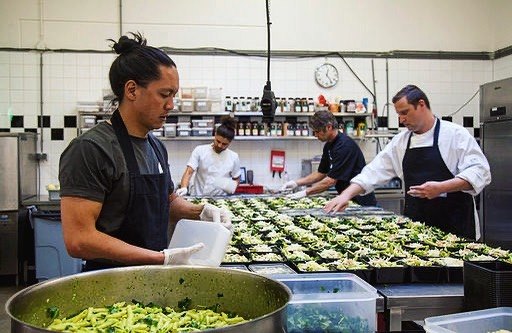 MASS INFLUX OF VOLUNTEERS
Firoez Azarhoosh from the 'Indies Neighbourhood' (Indische Buurt) in the Amsterdam-Oost district agrees with this. He works as a coordinator for neighbourhood organisation Samen Vooruit, which means 'moving forward together': "During the lockdown, we had a mass influx of volunteers. There was a very noticeable increase in solidarity."
Within a short period of time, Azarhoosh and his colleagues were able to set up a major initiative: over an 8-week period, they distributed 17,000 free meals to 350 families in the neighbourhood. This was possible thanks to crowdfunding, with contributions from local residents. The closed restaurants in Amsterdam-Oost also joined in by making their chefs and kitchens available. In addition, 100 volunteers participated.
It is a striking, positive initiative, but it also requires further research. Firoez: "Right away we asked the question: who are these families? What has happened since the coronavirus outbreak to cause them to need a daily meal? Since the lockdown, we have seen many cases for which more action is needed."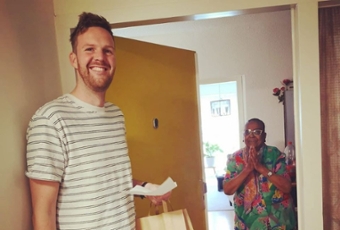 THE SAME EXPERIENCE IN NIEUW-WEST
Amsterdam Nieuw-West has had similar experiences, says community worker Gina van der Linden of the Eigenwijks foundation. "A huge number of people came forward, many of them new entrants to the labour market and employed persons, people we normally see less among volunteers. People cooked for their neighbours on tight budgets, and there was a campaign to buy food parcels from farmers for families.

Elderly people were taught how to use Zoom. Many of these people didn't want anything to do with it at first or do not speak Dutch very well, but they still turned out to be quite computer literate. And music and dance teachers recorded lessons, which were broadcast through Nieuw-West TV."
GAP
At the same time, Gina is concerned about the development of the neighbourhood: many people's situations have worsened in recent months (socially, financially and in terms of health). "The gap has really widened. People who were already struggling financially are in worse shape now. The educational gap has also increased tremendously. And people who were already lonely and isolated before are really on their own now."
TEMPORARY OR LASTING EFFECT?
It is therefore very important to hold onto the extra volunteers, initiatives and community spirit, as there is still a lot to come for the neighbourhoods. But whether that's possible remains to be seen.

Professor Lea den Broeder: "We know that solidarity increases after a disaster, for example, and that people want to help each other. It is also gives a sense of purpose; it makes people happy to do something for others. But scientific studies also show that this effect is temporary, and that it fades away again.
"That's why we are urging people not to let this go to waste. Invest in this. A huge amount of potential has been generated in these neighbourhoods. This also reveals much more directly crucial information about what is going on and what residents need, especially in terms of health."
Community spirit is very important for people's health; the tighter our network, the healthier we feel in general. In priority neighbourhoods in particular, it is good if there is a high degree of mutual engagement. Lea den Broeder: "Because people in the poorer neighbourhoods often have little social capital, they are more dependent on their immediate environment than other groups. Their social networks are closer to home. They aren't millennials who travel all over the world."
Photos of meal service: Samen Vooruit. Top photo: Dappere Dames ('Brave Ladies') Foundation