COVID-19 patients at risk of developing new symptoms post-ICU
1 Apr 2020 14:55 | Urban Vitality

COVID-19 patients hospitalised in the ICU have an increased risk of PICS: Post-intensive Care Syndrome warns Marike van der Schaaf, professor of Acute Care Rehabilitation at the Amsterdam University of Applied Sciences (AUAS) and Amsterdam UMC. Because this clinical picture is still relatively unknown, patients and their relatives can face physical, cognitive and psychological symptoms for a long time. Due to the corona crisis, Van der Schaaf has brought forward the launch of a special physiotherapy programme for patients with PICS.

Van der Schaaf is involved in research into Post-intensive Care Syndrome (PICS), which is relatively unknown to many doctors. "PICS is a collection of symptoms that a patient can suffer after being hospitalised in the ICU," explains Van der Schaaf, "such as muscle weakness, malnutrition, stress, anxiety or depression. Admission to the ICU has far-reaching consequences, both physically, cognitively and psychologically, for the patient as well as his or her relatives."
Chance of PICS
According to Van der Schaaf, COVID-19 patients are more likely to develop PICS than other ICU patients because they spend longer in an ICU on average: "Usually they are admitted quite acutely and spend a long time on a ventilator, two important risk factors for the development of PICS." In addition, the higher the age, the more serious the disease and damage to the organs, the greater the chance of PICS. "We think that roughly 50 to 70 percent of ICU patients develop PICS symptoms," says Van der Schaaf.
Still off work after a year
If PICS is not identified, symptoms may persist unnecessarily for months or years. Van der Schaaf: "In the hospital, everything is done to help a COVID-19 patient to survive. If this is successful and a patient goes home, he or she is more or less left to his or her own devices. In these times when the coronavirus pandemic is so serious, you should be happy to have survived. But the patient can still suffer setbacks later on. Many people with PICS experience symptoms that resemble PTSD; half of them are still off work after a year." "PICS patients often have a hard time picking up their daily lives again: they can easily experience sensory overload, have memory problems and difficulty planning activities, and struggle with their role in the family.
PICS-family
Van der Schaaf says it is important not to lose sight of the family either. According to the professor, a patient's relatives can also develop PICS. This is referred to as PICS-family. "Imagine," explains Van der Schaaf, "your loved one is on life support in the ICU. You can't visit him or her, can't touch him or her, and the healthcare staff understandably cannot help you because they are too busy with all the other patients. That is an incredibly frightening time, which can leave its mark afterwards."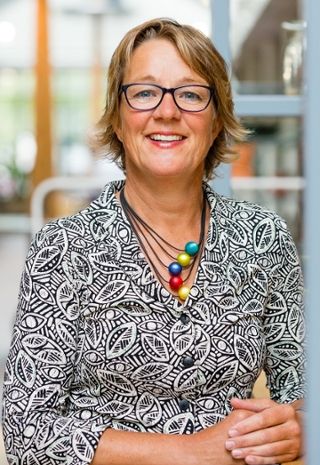 Toolkit for healthcare professionals
If PICS is discovered in time, the patient can receive support during his or her recovery from a physiotherapist, dietician, and, if necessary, an occupational therapist and psychologist. Van der Schaaf is investigating this together with PhD student and physiotherapist Mel Major of the AUAS. Their REACH study is developing, testing and implementing a physiotherapy programme for patients with PICS. This has resulted in the 'Post-intensive care Toolkit' (Dutch publication). According to Major, this toolkit is important because physiotherapists cannot always provide the support that ICU patients need.
Marike van der Schaaf and Mel Major are also working hard to set up a special network of healthcare providers, the REACH network, specialised in PICS. "We are trying to share as much knowledge as we can." "Especially now," adds Van der Schaaf, "because even more patients are at risk of PICS during this corona crisis."
The toolkit was developed by the REACH project, the Dutch Institute of Allied Health Care and the patient association IC Connect. View the (Dutch) toolkit at npi.nl/home-reach.