#3 A day with an Aviation alumnus: Jory de Jonge
Jory graduated in Aviation Studies in 2013. Four years later and several jobs further he works at JetNetherlands. Read the short and turbulent career about Jory.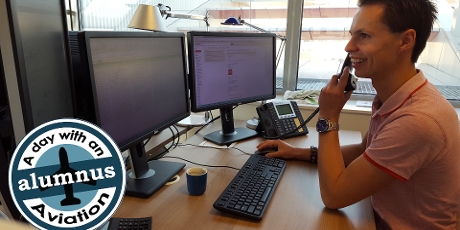 Education
As a lot of aviation students Jory had the dream to become a pilot, but in a time where only a few number of pilots got a job, he decided to study at the Amsterdam University of Applied Sciences. But, he never regrets his decision to do Aviation Studies.
During his fourth year, Jory followed the honors program engineering. He really advices to follow the program and says: "If you like a more challenging year, the honors program definitely provides it and go for it. It is a worthy addition and a nice finalization of your study".
In the second semester of the fourth year, Jory graduated at SAMCO. This a maintenance company where he graduated in Lean MRO.
Career
Jory has had several jobs before he started to work at JetNetherlands. After his graduation, he was asked to work for SAMCO. This job perfectly fitted to his MRO engineering path that he followed during his study. However, he made the decision to resign and work closer to his hometown. Besides that, Jory found that his interests are more at aviation operations than MRO.
So, after graduating and working a year at SAMCO Jory started to work for AIS Airlines & Flight Academy. Here, he became operations officer and soon promoted to a function with more responsibilities. However, he felt not completely comfortable with his job, so after two years he decided to work for Denim Air ACMI as Supervisor Operations. Unfortunately, Denim Air went bankrupt and so he started to work for JetNetherlands.
The job
JetNetherlands is located at the General Aviation terminal at Schiphol-Oost. The company has merged with the Belgian Company ASL in 2014. ASL/JetNetherlands performs aircraft management for customers that own an aircraft. This includes a full flight service with items like crew, flight planning and maintenance. Also, the aircraft owners are able to charter their aircraft to external customers. At last the company owns a few aircraft which are active on the charter market. Approximately 90 percent of the flights operated by ASL/JetNetherlands are performed in Europe.
A normal day for Jory begins in the early morning at 7 o'clock or starts in the afternoon at 14 p.m. until 22 p.m. It only happens occasionally that a flight is scheduled during the night, and so the nights are covered by standby duties.
Before Jory gets is in the middle of the operation of a flight, the sales department of ASL/JetNetherlands receives a booking for a flight, then the planning department in Belgium arranges all necessary things for more than 24 hours away (like crew planning, request slots, etc.). Then the work goes to Jory at Schiphol-Oost, which is a combination of dispatch, flight operations and planning (because regularly flight requests are made within 24 hours from departure). So, Jory has the responsibility that all flights within 24 hours from departure until arrival are operating smoothly.
What he likes about this job is the diversity. Jory says: "Different from a company like KLM where all flights are scheduled far before departure, here you can get requests to reschedule or plan a flight 1 hour before departure. Also, we have more than 15 different aircraft types, all with their own characteristics. We also fly to many different (special) airports, where regular airlines do not fly to". Jory also says: "Next to private and business-related flights, we also organize (occasionally) organ transports. This makes the work really special".
Besides the job, Jory explains what Aviation Studies has contributed to his career: "In the working field, you get in contact with a lot of new things which you didn't primarily get on your study. However, the foundation that Aviation Studies has provided you will understand these new topics much faster". He uses the example that working with aircraft manuals and regulations is some of the basic things you learn at Aviation Studies and he now uses that knowledge in practice.
At last, Jory advices to look further than your books and lectures. He says: "Aviation provides a lot of basic knowledge for many subjects, but on some points, it does not provide enough knowledge to really understand the subject".