#4 A day with an Aviation alumnus: Karin Elbers
Get a look into the work of the ambitious aviation consultant Karin Elbers.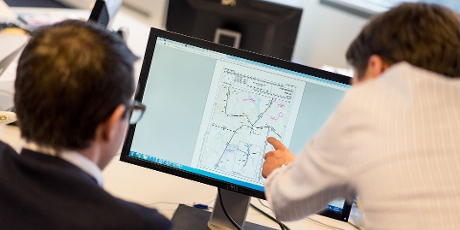 Education
Karin started to study Aviation Operations at the ROC in 2006. Due to the internships, she gained experience in the operation, where she profits from until today. When she finished Aviation Operations, she wanted to become air traffic controller. Unfortunately, she did not pass the exams. However, in 2015 she successfully graduated from Aviation Logistics at the AUAS.
The internship and graduation were diverse. During the third year she was an intern at SCAI consultants and during the fourth year, she was graduating at the province of Flevoland where she was doing a stakeholder analysis of Lelystad Airport. The diverse jobs and internships she had was for a reason, she says: "It is important to orient widely and not to focus on one specific point in aviation. Use the opportunity of doing different internships and jobs to find out what you like the most".
The first semester of the fourth year, Karin followed the honors program Aviation Management. In her experience, the program did not went deep into the content. However, Karin says: "You learn a lot more on personal level, like how to work in a team and learn what your strong and weak personal skills are. In the end, it is very intensive to work half a year in one room with very different people you do not know".
During her study, Karin has done several secondary activities relating to the study. Karin has been student assistant where she assisted in the establishment of luchtvaartfeiten.nl, and participated in a focus group. This group was established to provide feedback on the curriculum of the study. Next, to being student assistant, Karin worked in the aviation industry at Aviapartner.
When Karin finished Aviation Logistics, she decided to work full-time at Aviaparter as turnaround coordinator and load controller. But, she still did not know if she wanted to work for an airport, airline, governmental body or consultancy in the future. However, Karin says: "The worst decision to make, is to make no decision at all". So, when the job opportunity for a junior aviation consultant at To70 came along, she decided to respond.
The company
To70 is one of the world's leading aviation consultants providing research and advisory services to the global aviation community. To70 was founded in the Netherlands in 2000, and has since expanded with offices in Switzerland, Colombia, Thailand, China, Brazil, Germany, Singapore and Australia. These offices are managed by local people, who understand the local working environment the best.
The projects that are granted to To70 are by a wide network of contacts and tenders. These projects are carried out in teams with a project manager. This manager will gather colleagues within the company that are the best to do the job and eventually will assign these people to the project. In this way, the company makes the best use of their staff. Several projects are listed below to show what projects To70 does:
Safety studies at several airports
Airspace redesign Dubai
Environmental impact assessment for Schiphol
Researching the influence of wind turbines on helicopter accessibility of oil & gas platforms in the North Sea
Providing project leaders to implement A-CDM at Schiphol and at the ANSP
Capacity studies for several airports
Development of an aircraft forecasting system for KLM
Other projects for airlines, airports, Dutch government, etc.
If you want to know more about the projects and areas of expertise of To70, click here.
There are senior, medior and junior consultants, however Karin mentioned that on the working floor the hierarchy is really flat. In other words, Karin can easily ask questions to the managers but it also happens the other way around. To70 invest in the development of their employees by giving the opportunity to attend courses or getting your masters.
The job
Karin started as junior consultant. As a junior, you get in contact with every aspect of consultancy. In this way, you learn what expertise To70 can offer to a customer. In addition, you will find out where your strong skills and interest lie in the company. After just 6 months Karin became aviation consultant. As a consultant, she is expected to build a network and to lead several projects.
In general, the consultants work on 4-5 projects at the same time. The duration of these projects are usually between 4 and 8 weeks. Next, to current projects, Karin is detached as project leader at the Air Traffic Control the Netherlands to implement A-CDM.
What Karin makes enthusiastic about this job is that she really helps companies with their problems and says: "The best feeling is when clients take over your advice. I love the fact that we together prepare the aviation industry for the future, and cope with current issues of today. In addition, the projects of To70 are so diverse that you get insight into a lot of different aspects of the aviation industry".
At last Karin give a few advices: "At first, search for your passion. When you have found it, you will automatically work hard. It does not work the other way around. Also, it is good to keep in mind that The Netherlands is a very small country. You never know where and when you will meet any person again. So make sure that every time you meet someone you can look him/her in the eyes the next time. The last advice is to make use of the opportunity during your study to see as much as different aspects of the aviation industry as possible".
In the end, Karin wants to become a senior consultant at To70. Also, she has mentioned that there are opportunities for an internship or graduation at To70.