Lecture Adriaan de Graaff successful
17 Apr 2014 09:55

On Wednesday April 16th, Adriaan de Graaf, member of the Dutch Aviation Group Board, gave a lecture titled 'Future of Aviation'.

The event was organised by the Aviation Academy research program to inspire Amsterdam University of Applied Sciences students and encourage them to participate in the Studium of Excellence programme. Over one hundred lecturers and students attended the lecture at the Auditorium of the Amsterdam Universtiy of Applied Sciences.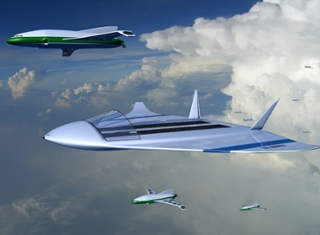 After introducing the history of aviation and its step changes, Adriaan de Graaf provided multiple inspiring examples, out-of-the-box ideas, and possible future passenger air transport scenario's. For example, airports in the sky where feeder aircraft will serve local destinations, which will minimise noise and enable door to door travel.
Geert Boosten of the Aviation Academy continued with a presentation and interactive session with the audience to discuss the future of aviation, green airports and scenarioplanning. The afternoon was closed off with a network event where students and faculty members were able to further exchange insights and ideas about the future of aviation.
The Amsterdam University of Applied Sciences would like to thank Adriaan de Graaf for the effort put into making this lecture a success.