Open lecture Christian Langer great success
6 Apr 2014 10:03

On Wednesday March 26th, Christian Langer, Head of Corporate Improvement at Lufthansa Technik, gave an open lecture titled 'Best practices in LEAN MRO'.

The event was organised by the Aviation Academy research program to inspire the industry and to further stimulate the application of LEAN in aircraft Maintenance Repair and Overhaul (MRO). Over one hundred MRO specialists, lecturers and students attended the lecture at the Auditorium of the Amsterdam University of Applied Sciences.

Christian Langer presented multiple inspiring examples, stories, and experiences to illustrate the five basic LEAN principles of Lufthansa Technik: waste-free processes, transparency, standards, continuous improvement, and leadership & team spirit. He continued with success stories at Lufthansa Technik and explained how these successes have been achieved.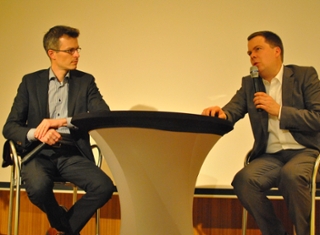 "LEAN is not a spectator sport", Christian Langer said. "How can we expect people to be transparent about their processes, performances, and non-performances, with management just sitting there, giving good or bad comments".
An interactive session between Christian, Arjan Stander of the Aviation Academy, and the audience resulted in a fruitful dialogue about LEAN MRO. The afternoon was closed off with a network event where specialists, students and faculty were able to further exchange insights and ideas.
The Amsterdam University of Applied Sciences would like to thank Christian Langer and Lufthansa Technik for the effort put into making this open lecture a success.
For more information on LEAN MRO research, please refer to our website Maintain your competitive edge our Linkedin group