Amsterdam: soon to be the smartest city in the world?
19 Feb 2015 10:33 | Communication

Amsterdam is well on the way to becoming the number one 'smart city' in the world. Under the umbrella of the Amsterdam Smart City cooperation, more than 70 projects are already helping improve the quality of life in the city thanks to smart technology solutions and open data. This afternoon, this cooperation is being expanded further with three big new partners: Amsterdam University of Applied Sciences, ARCADIS and PostNL.

Urban strategist Boyd Cohen recently referred to Amsterdam as Europe's second smart city. And last week ARCADIS announced that Amsterdam is one of the most sustainable cities in the world. Amsterdam Smart City is greatly accelerating this process with more than 70 projects helping improve the quality of life in Amsterdam and make the city smarter. The innovation platform Amsterdam Smart City consisted of Alliander, KPN, Amsterdam Economic Board and the Municipality of Amsterdam. On Tuesday, 10 February, Amsterdam University of Applied Sciences, Arcadis and PostNL also signed up for this public-private cooperation at Amsterdam University of Applied Sciences. Kasja Ollongren, Alderperson for Economic Affairs, attended this partner meeting.
Smart City projects
Amsterdam University of Applied Sciences is investigating a large number of smart city projects within its Urban Technology programme. For example, students and researchers are detailing business models for a system that allows households to store power they have generated themselves in the batteries of an electric car (Vehicle2Grid). In addition, HvA researchers are analysing all the data concerning charging stations in Amsterdam. This is currently a unique project for a large city, in which the municipality is therefore leading the way. Another smart city project is the SEFLab, in which HvA researchers are testing green software and developing a hallmark for this.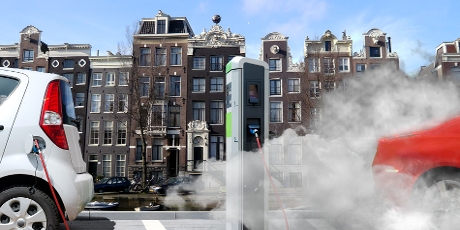 What is a smart city?
The idea behind a smart city is that, in spite of growing populations and pollution, we can improve the quality of life in the city and make it more sustainable. To do this, cities are increasing their use of open data and new mobility solutions. This means there are more and more smart cities, where the city itself is a laboratory. Municipal authorities, businesses, knowledge institutions and residents are working together on this.
In Amsterdam, projects are currently under way ranging from smart parking using an app and sharing models for electric cars to storing power you have generated yourself using a smart grid – a smart electricity system. Amsterdam Smart City connects and gives impetus to all of these projects. With new partners Amsterdam University of Applied Sciences, ARCADIS and PostNL, Amsterdam Smart City will set up a minimum of 10 new projects a year in the areas of urban logistics, open data, sustainable energy and water-resistance, to name but a few.
See also: article on Amsterdam as smart city in MIT Technology Review.