The Innovation Lab Market
Students present their innovations
9 Feb 2015 16:07

On Wednesday, 28 January, a throng of students in suits fills the fourth floor of the Leeuwenburg. Groups of second-year ED&I students about to present the innovations they have developed for clients and businesses large and small at this innovation lab market. After a little manoeuvring through the crowd, there it is – the undisputed eye-catcher of this Innovation Lab Market: a multi-coloured skateboard made from plastic waste. Student Daan Langeveld developed the skateboard with his fellow students for The Plastic Whale.

The Plastic Whale fishes mountains of plastic waste from the canals of Amsterdam, and wanted to make something from all these plastic bottles and caps. The students made a mould for the caps, and then stoked up the plastic oven in the Leeuwenburg to a high temperature. They allowed the plastic to cool under pressure, creating a hard skateboard. The students also made a transparent skateboard from the bottles themselves. 'It's a tricky material, because it has a tendency to implode.' Luckily, the students are all here unscathed, with three skateboards.
Chocolate bar machine
Students Thomas Kuipers and Wouter van Oosten have an invention that seems to come straight out of Charlie and the Chocolate Factory: a machine for making bars of chocolate. They were commissioned by Chocolatemakers to sort the bars, which at present just tumble into a big box, neatly. The students created a mechanism that sorts the bars into stacks that then line up, automatically making room for the next stack. 'It had to be completely mechanical, without any motors or electricity.' The challenge has been successfully met, as the students demonstrate, the bars of chocolate sliding past the onlookers.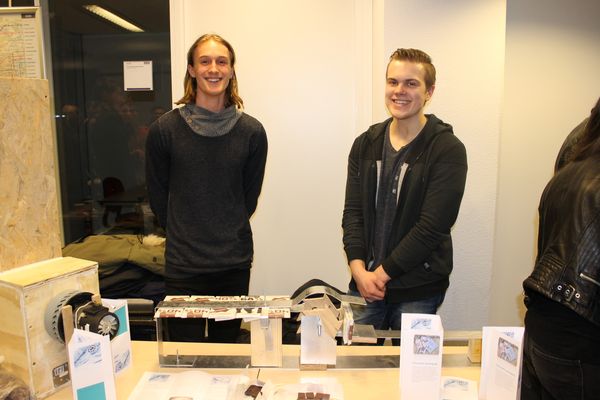 Super-efficient motor
Further along, students Robin Walter and Robin Oberts are standing by something that looks a little like a roulette table. This spinning disc is a Halbach motor, they explain – a motor with an extremely high output. Robin explains how it works: '99% of the electricity from this motor is converted into energy. Normally, there is a magnet in the middle with a coil around it; in this case, the coil is in the middle.' The intention is for this motor to be the latest addition to the HvA hydrogen vehicle, allowing it to once again achieve an efficiency record at the Shell Eco Marathon.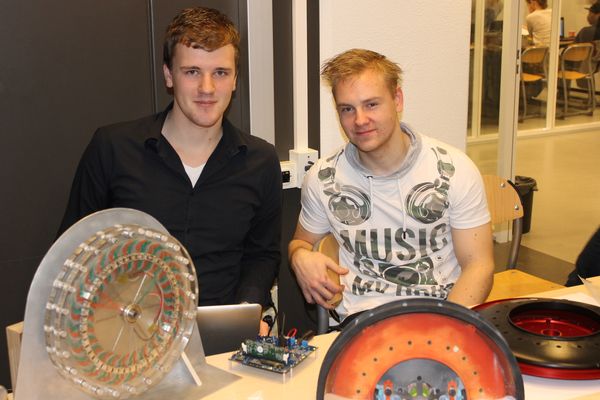 EVA reborn
'Would you like to see the most interesting project at the Innovation Lab Market? Follow me!' student Bart Koese beckons enthusiastically to the model of EVA, the urban vehicle with which the HvA is taking part in the Shell Eco Marathon. The students reveal how they designed a hood and a frame in one, making the vehicle some 76 kilos lighter. The car charges up while braking. The latest version will no longer be driven by electricity, but hydrogen. The name is therefore also being changed, from EVA to HvA, the Hydrogen Vehicle Amsterdam.