AUAS unveils climate-proof 'RESILIO' rooftop
City council member Laurens Ivens opens new blue-green rooftop on AUAS' Benno Premsela building
30 Jun 2020 08:45 | Centre for Applied Research Technology

A rooftop that improves urban biodiversity whilst protecting us against high temperatures and collecting and regulating excess water after heavy showers. Although this idea has a utopian ring to it, Amsterdam Oost will soon be home to 10,000 sq. m. of blue-green rooftops that will do just that. Amsterdam University of Applied Sciences' (AUAS) Benno Premselahuis boasted the first rooftop to receive an upgrade. City council member Laurens Ivens officially opened the rooftop, as part of the RESILIO research project, on one of the hottest days of the year. "RESILIO makes me proud to live in Amsterdam."

Supported by €4.8 million in European grants for this innovative climate adaptation project, Amsterdam will be furnished with 10,000 sq. m. of blue-green rooftops in the autumn of 2020. This innovative pilot is set to introduce a smart system equipped with sensors that decide whether to collect or discharge water based on the weather forecast. Together, the smart rooftops will make up a network that allows for next-generation water management for individual buildings and entire neighbourhoods alike.
CITY COUNCIL MEMBER LAURENS IVENS ON CLIMATE
City council member Ivens took the opportunity to stress the importance of the RESILIO project in the face of "unprecedented climate change". Ivens explains: "Droughts are becoming more common, while biodiversity is plummeting. Besides, many of Amsterdam's rooftops are made of stone, which makes the city feel even hotter. This is a sad state of affairs. I would like to see more greenery, improved water collection and increased biodiversity to help make the city more climate-proof. That's why I'm so proud of RESILIO – where it all comes together in an innovative way.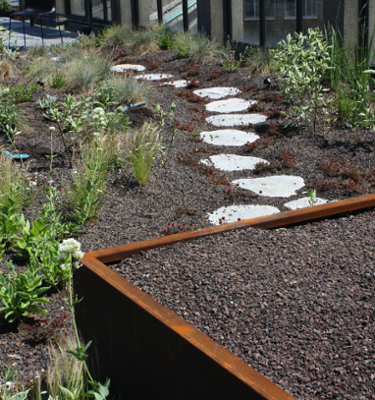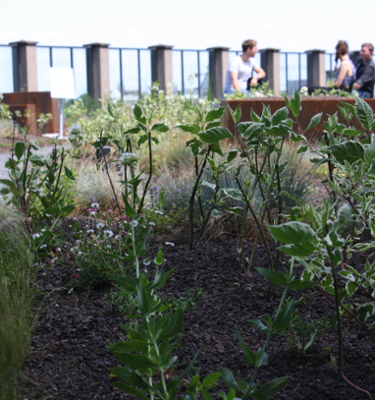 BLUE-GREEN ROOFTOP TOUR
On this hot summer day, city council member Ivens was accompanied by Hanneke Reuling, vice-chair of AUAS' Executive Board, Willem van Winden, lecturer in Urban Economic Innovation, and partners such as Waternet on the tour along the cool rooftop featuring native plants, flowers and water. Researchers and students proudly showed what they had been working on for well over a year in their attempt to roll out the innovative rooftops to the rest of the city.
"We monitor the rooftop's hydrological impact", a student standing next to a visibly blue layer tells us. "This layer, covered in greenery, collects rainwater and uses it to water the plants on the rooftop, before gradually discharging it at the street level." This process is governed by the smart system and its sensors, which respond to the weather forecast. If a heavy shower has been forecast, the rooftop has to be drained before it starts raining. This can help reduce peak drainage during heavy showers and frees up extra capacity for later on. "We are using this blue layer, along with model studies, to research how we can prevent flooding in the city. We have also set up practical pilots in Amsterdam's Slotermeer and Rivierenbuurt districts."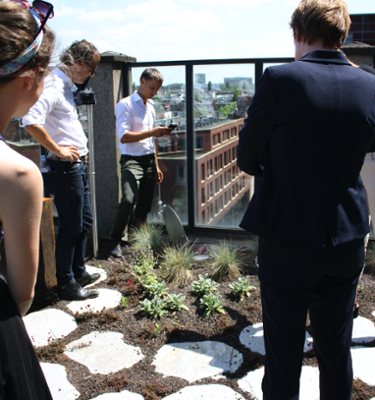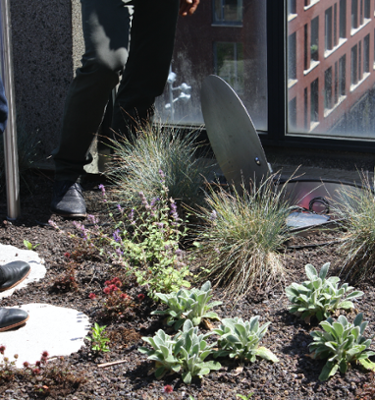 REDUCING HEAT STRESS
As part of the Urban Technology research programme, the RESILIO team also monitors how blue-green rooftops affect heat stress. The advantage of blue-green rooftops is that they can collect much more water, enabling them to continue to evaporate moisture for longer during hot or dry spells. This lowers indoor temperatures and, when scaled up, could even cool the urban environment as a whole. "We monitor the temperature below and on top of the roof, as well as heat transfer", says Anna Solcerova, an Urban Technology researcher. "This involves testing various types of roofing, including white gravel and water. This work is mainly done by students, in projects linked to internships and final thesis projects."
LOCAL ROOFTOP ENGAGEMENT
These blue-green rooftops also play a social role. "Rooftops that are freely accessible can serve as a private park for the building's residents or users", lecturer Van Winden tells us. The rooftop of the Benno Premselahuis is a great example, flanked with windows for extra safety and featuring various open spaces where people can move around safely, even while sticking to social distancing measures. "This is not without its challenges", Van Winden continues. On the one hand, furnishing and setting up safety systems on rooftops costs money, while housing associations would prefer their tenants to avoid the roof in the first place. On the other hand, there is the issue of responsibility. Although Waternet is currently responsible for water management, this new system would make it possible for residents to be involved in maintenance. That is why we are also conducting a cost-benefit study to underpin new, necessary arrangements between the municipality, corporations, Waternet, residents and other stakeholders.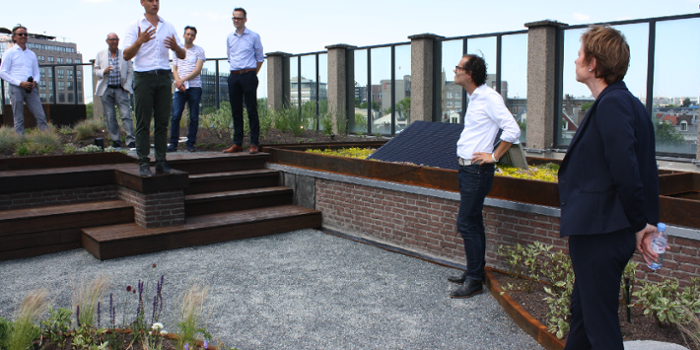 Despite the costs involved in adapting existing roofs, Ivens sees clear opportunities for new construction and another nifty gadget presented by RESILIO: "Their smart system, which combines all new construction rooftops in a certain neighbourhood into a network, has really fired me up." Once the neighbourhood systems have been scaled up, the smart network will allow for a carefully coordinated drainage system. This will make it possible for the roofs to retain water for longer, before discharging it to the streets at the most opportune time.
WORKING WITH PARTNERS AND THE EU
RESILIO stands for 'Resilience nEtwork of Smart Innovative cLImate-adaptive rOoftops' and is a collaboration between the City of Amsterdam, Waternet, Polderdak, Rooftop Revolution, AUAS, VU University Amsterdam, Stadgenoot, De Key and Consolidated. Furthermore, the continuous involvement of students is key to the project. AUAS students from various faculties conduct research into various aspects of green-blue roofs, such as business models, effects on biodiversity, cost-benefit analyses, cooling under the roof and in the neighbourhood, and the social impact.
The RESILIO project is funded by the EU's Urban Innovative Actions (UAI) Programme. Europe's eyes truly are on Amsterdam. "RESILIO makes me proud to live in Amsterdam", city council member Ivens proclaims at the conclusion of the opening, after symbolically placing a plant on the rooftop. "The EU supports RESILIO and has invested a lot in this project, but, ultimately, the whole world is in this together, as we all face the same problems. Via this project we can contribute solutions to climate change globally".