AUAS students pitch circular designs to experts such as Nike
Pakhuis de Zwijger showcases the circular city in action
7 Nov 2019 16:57 | Centre for Applied Research Technology

Bags made out of discarded advertising banners, festival ponchos made from old tent fabric and a water drinking station fashioned out of rejected pipes. Three circular products designed by Product Design students from Amsterdam University of Applied Sciences (AUAS) on behalf of Nike, The Upcycle and PipeLife. On the evening of Friday 15 November, the students were pitching their ideas to a panel of experts at Pakhuis de Zwijger. The evening is part of the 'Circular City' programme series, with well-known speakers, such as the architect Thomas Rau.

AUAS lecturer and researcher in Circular Design Jeroen van Vorsselen, Jeroen van Vorsselen, brought the three companies and students together: 'Because "learning by doing" is the best way to master the principles of circular design. And the results don't lie.'
Bags made from advertising banners
'This year I used the principles of the Nike Circular Design roadmap in my lectures,' says Van Vorsselen. That makes it great to then take on an assignment for them.' Nike asked a group of students to create 'something' out of a some discarded advertising banners. They then transformed the banner into a bag that can be folded into a fanny pack. In this way, the product is still advertising material, but mobile – and can be used to carry things.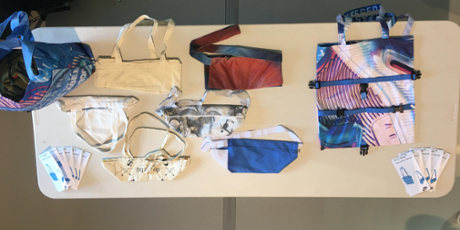 Festival ponchos
At the end of any festival, there will always be a heap of discarded tents left over. A true waste of all that waterproof material according to the company The Upcycle . So a group of students came up with the Ponchypack – a foldable festival poncho in a fanny pack, which preserves the same objective (keeping water out) and demographic (festival goers). They seem to have thought of everything, given that the Ponchypack also includes a storage compartment for a wallet and phone. In short, a fully circular concept.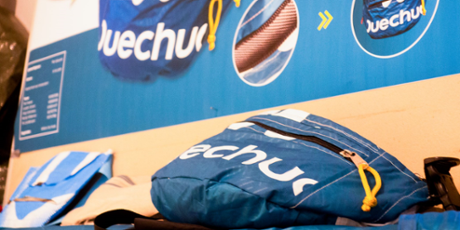 Overground pipes
PipeLife , meanwhile, were contending with a wholly different issue, as manufacturers of pipes for water transport. Although this always takes place underground, the company wanted more visibility above ground – preferably using 'rejects', meaning the lengths of pipe that are recycled into new pipes because they do not meet quality requirements. The students used the pipes the create a drinking water station for festivals, given that reusing the existing material is more sustainable than recycling.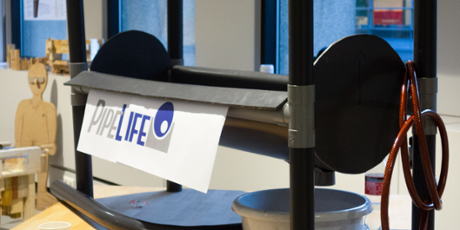 Amsterdam ArenA football table
In addition to the three pitches, the students will also exhibit five other designs during the reception, such as the football table that they created for the Amsterdam ArenA bar – made from waste wood and designed using the Urban Technology professorship's Robotlab.
Van Vorsselen is proud of his students: 'These are the professionals of the future. Their ideas deserve a broader platform than just the classroom – not just in terms of their designs, but in terms of the underlying circular principles. Pakhuis de Zwijger is the perfect place for that – it's a platform for inspiration and debate.'